Wrockwardine Wood and Trench Parish Council
Rona Harris - My Story Part 6
Moving on with my memories, you will recall how I introduced My Lovely Dennis to my parents, but all as I told you was not well after that.
Now here I must say that I am showing a photograph of the cottage at Teagues Bridge which was the home of my in-laws (the photograph was omitted from the November issue).
So as time went by, I seemed to spend more and more time at Dennis's parents' home than my own, they always had a welcome for me, and nothing was ever too much trouble for his Mum to do for me also.
However, over the next few months, Dennis and I had become very close, so much so that we had discussed getting engaged, and we were very much in love, but like all other young couples of around this time, we did not have a lot of money, so in order to afford an engagement ring we did a few jobs in the evenings, for example:-
We took on doing a bit of photography some were of his mates' weddings, and others' family portraits etc., so we had all the stuff to do this, like the developing trays and printing trays, plus the various liquids and photographic papers, there was quite a lot of expense incurred but somehow or other we managed, and all this work was done on his mother's gate-leg dining table, but it had a wobbly leg, and no-one was more surprised than us that the whole thing did not collapse under all the activity.
We still had to walk to my home though every night too, yes from Teagues Bridge up on to the A5 in Oakengates, he would leave me by the gate and would ride his bicycle back to his home, then once more I had to face the misery of my parents reaction to him. My life once back home was far from happy, and you know, I do think back sometimes and wonder why they could be so unwilling to even give us a chance, but I will tell you what! if it was 10.35pm (and I would then be five minutes late because I had to be in by 10.30pm), I then got all the questioning like "where had I been, and what had I been doing"?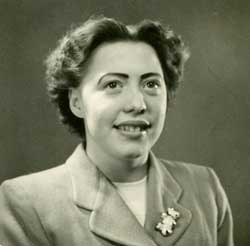 However the time came when we had saved enough money at last to buy my engagement ring, it was a really beautiful solitaire diamond, which we bought from Mr Scott the jeweller in Oakengates (sadly not there now, like so many other shops and atmosphere in that once lovely little town).
I was 23 years of age, very much in love, and our love would of course see us through every happening, but would you believe that I had to ask my parents' permission, they were not happy at all about our forthcoming engagement and marriage.
We decided that we would be married at Wombridge Church, and although I was always brought up with Methodist chapel teachings I was really no longer interested in all that three times a day every Sunday from being five years of age, "enough is enough" I think. Dennis's family had always attended Wombridge Church hence our lovely wedding would be held there.
This was going to be OUR day, yes our lovely wedding day, but for the present our lives carried on as usual, the atmosphere did not improve at my home in any way at all.
I am also showing a photograph of me living at home on the A5 until our day would arrive.
I will leave my revelations for now and will carry on next time relating to the build-up and our wedding actually taking place at long last.