Wrockwardine Wood and Trench Parish Council
Rona Harris - My Story Part 7
Well, here I am again with our lives moving on, but you know when I think back to those days and endless winter nights that Dennis and I sat at his Mum's table, drawing, scribbling, and yes deleting plans for our would be beloved bungalow, you see we both wanted perfection in our very new and beautiful home to be.
As I am writing this, I feel that now people would not tolerate all the things that I did then, and I have no doubt that any people around my age will relate to what I am writing now, those days don't even begin to compare with today.
But despite all the somewhat hardship, and to some extent strictness, I am so glad that I was 18 to 28 years of age THEN and certainly now, with all this technology and all this education, and the know how, I would ask "Please give me my time back again," we were, all of us, individuals and not carbon copies or clones of one another-------
Moving on, as time went on our relationship with my parents did not improve in any way, strangely enough my in-laws to be were really good to me, they accepted me without any second thoughts, and the hours spent with them in their home with my lovely Dennis was such a wonderful outlet from the ever disintegrating atmosphere in my parents' home.
They used to say to me and I quote "you don't want him, he is no good for you. We want you to give him up" and I had to endure all of this, and they did not really bother to get to know him properly, and of course I was determined to marry him come what may.
However, I did try to ignore all this "agro" and concentrated on what our future was going to be like, and I suppose like most couples it was going to be a wonderland of happiness, blue skies all the way and no clouds except for one that was known as "cloud nine", but it was strange how quickly this cloud dispersed and shed rain and gloom at every corner of my life, and well, Dennis's life too I suppose.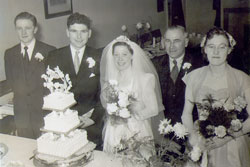 We were married at Wombridge Church, on the 4th December 1954, it was a very cold day, I was so very happy, and as My Dad and I left our home in Oakengates he was still asking me not to go through with it.
However, we arrived at the church, but as we walked down the aisle towards my lovely Dennis I got such very strong vibes that my Dad did not want to be there at all, but with all that had gone before we did actually get married.
We had a lovely reception at the then Caledonia Hotel, it was a lovely place at that time, and I believe that we had the whole of Newport Rugby club there (Dennis was a member of that team, he played scrum half so you can probably imagine the whole afternoon was very good and happy.)
I believe the team had a match that same afternoon, and won the match with a score of 46 - nil. Anyway reception over and I went home to get changed.
My Dad then drove us to Wellington Station to start our journey to Dublin for our honeymoon.
At this point I recall my sister Sheila (who was my bridesmaid) telling me that she was shivering with the cold, while waiting for the train. When I asked why, she said that she did not want to wear a coat over her bridesmaid dress.
Ah bless her! and it was a lovely dress too.
So off we go to Liverpool to board a boat to Dublin.
Ours was a truly wonderful day.
I will continue my story of our lives and futures together next time.