Wrockwardine Wood and Trench Parish Council
Rona Harris - My Story Part 8
Hello again, moving on from my last story, as I told you we went to Liverpool and then on a boat to Dublin. The fare was expensive then, considering that the accommodation was really poor, but I will not go into any details. We duly arrived in Dublin and walked up the famous 'O'Connell Street' on our way to the Iona Hotel. Dublin really was a beautiful city then, but I believe like everywhere else now greatly changed.
We hired a little car for the week, it was a "Volkswagen Beetle", and so we visited a few places around the outskirts of Dublin. That city, at that time of year with Christmas Lights, decorations and Christmas music everywhere and together with everything else, for us it was all purely magical.
All too soon, the time came for us to leave and at the end of that perfect week, we arrived back in Wellington, and then on to Teagues Bridge where we were going to live for the time being, and then of course all too soon back to work.
A few months later and loads of thoughts and considerations with regard to finding a place of our own.
Oh! I know life is not easy when a couple live with parents or in-laws, although I will always maintain that life was much easier and much more pleasant with my in-laws.
After all the aggravation and unpleasantness with my parents prior to our wedding, we really wanted to keep a distance from their home, simply because of the attitude problem, although we still visited them fairly regularly.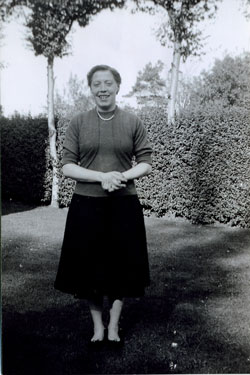 Can I say at this point, that so far as a family was concerned neither Dennis nor I were interested in having children, we had such plans for our future, and none of these included a family, but thereby hangs yet another story for another time.
After looking at houses to rent and to buy, we were much undecided what to do. So eventually after sitting night after night scanning newspapers and property details from estate agents we hit upon the idea of building our own home.
Now every night after work and once dinner was over and done with, we would sit for endless hours drawing plans with a view to possibly build, and with more paper scrapped, more ideas that we had binned, there was almost miraculously a break-through.
We decided on drawing up plans for a bungalow, and again months later we felt that we had come up with the perfect plans for our perfect home and it was going to be the last word in luxury. All that we needed now was a piece of land on which to build this dream home. In fact the drawing, with various crossings out and alterations of so many things, it all started to take its toll, and the decision was made to look for a piece of building land to buy as soon as possible.
Now all those dark winter nights seemed to be paying off and with the onset of spring, we did eventually find this piece of land and everything was totally wonderful with a future to look forward to, and I will continue with all the happenings in our lives next time.
I am enclosing a couple of photos taken on a rare break from building in 1955, and the other one more recent.