Wrockwardine Wood and Trench Parish Council
Wartime Observation Site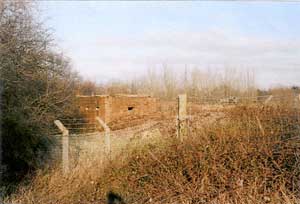 This observation post was built about 1940 in the early war years. It provided visual cover to the approaches to the railway sidings within the Donnington Ordnance Depot.
Positioned on the raised ground of the extensive ordnance sidings, it gave an uninterrupted view across farmland to Hadley and Horton.
In those busy times the sidings were in continuous use and shunting activities continued both day and night. Facilities were available within the depot for the loading and unloading of goods in a secure environment.
Rail access was from the Wellington to Stafford L.M.S. railway track, being serviced by the signal box off Johnsons Lane on the Horton side of the line.
During discussion meetings relating to the new freight depot Borough representatives were asked to retain this structure as a wartime heritage site and it is regretted that they chose not to do so.
A similar structure was also built off the originally known access road leading to Teagues Bridge. The site is now incorporated in the property known as No. 325 Wombridge Road. This viewed the open area from Church Road to the Trench Pool embankment including the rising ground to the original Bridge Inn public house.
R.H. Davies. May 2010