Wrockwardine Wood and Trench Parish Council
Wrockwardine Wood Rectory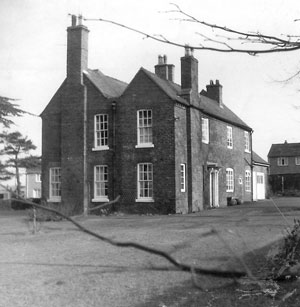 The photograph of the Wrockwardine Wood Rectory comes to us courtesy of Paul Luter and Joy Minshall the former wife of Neville Minshall, Vicar of Wrockwardine Wood Church in 1965-1974.
Joy now lives in the Shrewsbury area, but the photograph reminded her of the rectory in 1965 before renovations were carried out.
The house was built by the ironmaster, William Reynolds in 1794 and documentation reveals that it was originally lived in by William Rowton, a banker from Shrewsbury who was the excise officer for the glasshouse at the time.
Later Joseph Adams from Admaston the commercial carrier for the works lived there, as also did William Henry Cope, one of the partners of the works.
After the church was built in 1833 the rectory became the residence of the incumbent after the glasshouse closed in December 1841.
We would like to thank Mr. R. H. Davies for the following article. If you would like to include any articles or information in future newsletters please contact the Clerk on616363.