Community
Interested in what is happening in your local community? HugoFox is a website for people who love the local things in life. Whether is it supporting community events or backing your local sports team HugoFox is behind you all the way. This ethical company currently supports over 50 community websites and 23 youth sports teams giving communities the tools they need to 'keep it local' and sponsorship for football, cricket, hockey, volleyball and tennis clubs throughout the region.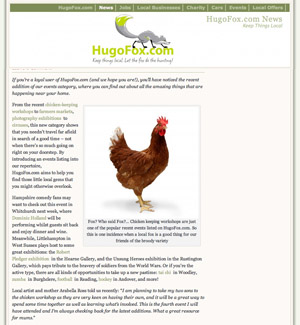 Local News
HugoFox provides a simple way of advertising local business, events and jobs on an easy to use, smart website.
NO banners
NO pop-ups
NO sponsored links
We specialise in linking communities and businesses with local consumers and residents and can provide tools to allow you to find results relevant to your local world.
We can even take the hassle out of advertising your community events and allow you to display them on your own website. See this in action.
Find out more by getting in touch with our Community Coordinator, Helen@hugofox.com