Bearpark Parish Council
Policing
Bearpark is in the Durham Constabulary force area and is falls within the Durham City Neighbourhood Policing Area.
There are a number of ways you can get in touch with Durham Constabulary. This depends on the urgency and type of request. Please see Durham Constabulary page on how to report a crime.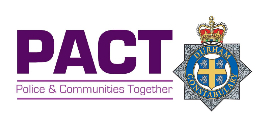 The Police hold PACT (Police and Communities Together) meetings each month in the area. These meetings are attended by a representative from your Neighbourhood Policing Team and will be specific to Bearpark. Individual neighbourhood priorities will be discussed. All members of the community are welcome.
Details for up and coming PACT meetings can be viewed by clicking the PACT image above.