Caythorpe Parish Council
Hoveringham Lancaster Bomber Memorial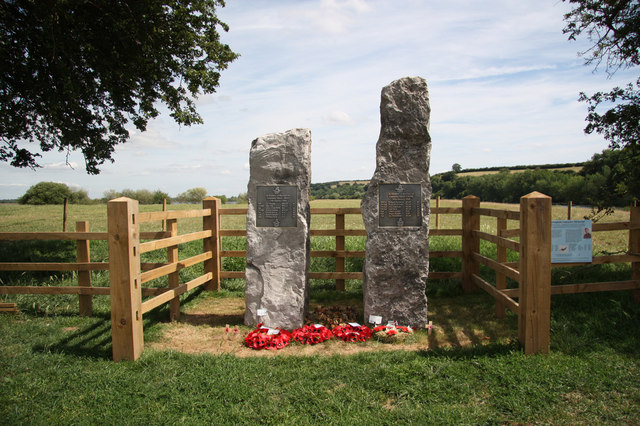 Just outside Caythorpe are memorials to the crews of two Lancaster bombers who crashed with all lives lost in 1945

JB125 crashed on January 12th 1945 and LM308 just 3 weeks later on 29th January 1945. The crews were all young men aged 19 to 30 of the New Zealand, Canadian and British Air Forces. The wreckage was re-discovered in 2009 and the memorials dedicated on May 30th 2010.
Helen Nall tells the story of how they were found below.
The location of the memorials is shown below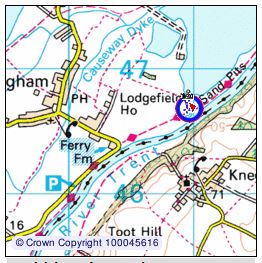 Helen Nalls Story:
I was unexpectedly given a metal detector by my husband on Christmas Day 2008 (I was expecting a vacuum cleaner, but that's another story!)
I came across fragments of metal in our fields at Hoveringham, and it transpired two Lancaster bombers had crashed in the parish during January 1945. Both crews (seven men in each) perished at the scenes.
My husband Edward, and I were keen to erect a memorial to remember the fourteen young men who died within sight of our village, and with the support of the village, our local councillor, farmers and complete strangers from around the country and world, we put up the memorial which was dedicated in May 2010. Over 100 relatives of the airmen attended the service, travelling from Canada, Australia, New Zealand and around the UK.
The Lancasters were based at RAF Syerston and both crews were on their final training flights. The aircraft crashed for different reasons, but reading the accident reports, it would be fair to assume structural or engine failure played a part as crews in training were given 'beaten up' old aircraft to learn in, which had been retired from active service. They frequently suffered structural disasters.
Of the 125,000 young men who served as aircrew in Bomber Command, nearly half were killed (55,573). Of that number, roughly 8,500 died in training accidents. There were 15 aircraft crashes in the local area around Hoveringham during the war, mostly heavy bombers, and around 100 young airmen died in the skies above and in the fields around us in this quiet corner of Nottinghamshire.
I wrote a small paperback book, "The Courage of The Small Hours"; every penny from it went (initially) to the Bomber Command Memorial in Green Park, London, and the remainder now goes to the RAFBF.
I feel the young airmen of Bomber Command, all of whom were volunteers, and whose average age was a mere 21, deserved more respect than was given to them after the war and I am humbled to have met so many BC veterans, and proud to have been able to give £12,ooo to the construction of the memorial in London. To date my book has raised £44,000. Every word in it was written for all those brave young men, not for my gratification.
If you wish to visit the memorial, it is an easy 500 yard stroll from The Old Elm tree in Hoveringham (on the riverbank). It is a public footpath the whole way. There is a bench beside the memorial. The pilots from Syerston use the memorial stones as a visual landmark and I like to think the fourteen young aviators named on the stones would be pleased to know this.
Helen Nall
Hoveringham Hall