Home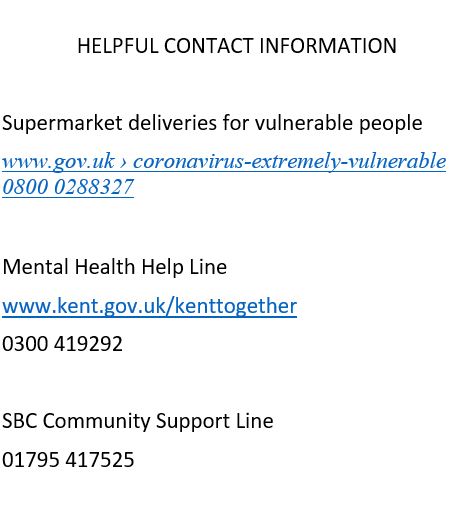 MESSAGE FROM THE CHAIRMAN OF THE PARISH COUNCIL
We are, by now, all very aware of the effect that Coronavirus crisis is having on our daily lives.As a very small Parish Council we all know only too well that we can have little influence on the National Crisis. However, while this virus takes its course, we hope that you are all complying with the Government and NHS directives and advice to keep yourselves as safe as possible.
We have taken the decision to postpone the planned Annual Parish Council meeting and Annual Village Meeting, which were due to be held in May. We will let you know when we are able to reschedule. Until then, if there are any concerns which you feel that the Parish Council should know about, or issues where you need any support we can give, we will do our best to obtain that support from the appropriate organisations.
Our residents are spread across various scattered communities throughout our Parish and, we feel sure that those of you who are able, will be selflessly supporting those in your immediate neighbourhoods who are in the 'at risk' categories. Social distancing can lead to isolation for those in the community living alone. Please ensure, any such persons receive some regular contact, as by the end of this crisis, isolation itself may have become a significant problem.
Above all, please keep yourselves and others safe, rigorously observe social distancing and so BE one of those who do not contract the disease or give it to others.
A.R.Trim (Chairman)
If you wish to contact the clerk please email:- judithparishcouncil@gmail.com
Welcome to the website of Norton, Buckland and Stone Parish Council.
We are a small rural parish just west of Faversham. In 1086, the Domesday Book surveyor reported that it possessed three churches, three mills and two fisheries. Today, there is just one church, no mills and no fishery - indeed the sea seems far away. How can this be? No one can be certain, but it looks as though the parish may originally have included Newnham, which is not recorded in Domesday. This would account for one of the 'missing' two churches, but where the other one was is not known.
The whereabouts of the fisheries is also a mystery, though the parish extends north across the A2 close to the low-lying Swale levels and perhaps there was once a 'detached' portion here that gave it access to tidal waters.
There used to be no 'village' of Norton, just a scattering of houses and farms, but recently the picturesque settlement of Lewson Street, with its popular pub, The Plough, was transferred from the parish of Teynham and now fulfils this role.
It used to be known, perhaps more attractively, as Lucerne Street. (The term 'street', used for most new roads in Victorian towns and cities, was often used in medieval Kent to describe a village along, or around, a highway.)