Home
SHED CLUB
"So, what", we hear you asking, "is a Shed Club"?
We are "Sturton and District Shed Club" and we are a friendly group that plan to get together, to socialise on a regular basis, to carry out all sorts of projects and share experience in areas such as woodworking, wood turning, gardening, household/car maintenance, IT, photography and anything else that takes our members fancies. In principle there are no fixed ideas, whatever the Group wish to do and dependent on what skills we all share. We are still at an early stage, but rapidly progressing and have already received significant funding grants to make our goals a reality.
We welcome interest from new members regardless of gender, age or experience levels.
Please read below for more info and either sign up for our newsletter or contact us if you have any questions.
See you at the next meeting!!!"
Originally the Men's Shed movement came over from Australia and is now also a national UK initiative that has expanded the activities undertaken by many men, pottering around in their garden sheds, from splendid isolation, into larger group meetings. They are not just about practical activities, but are also about social connections and friendship building, sharing skills and knowledge and of course laughter. Starting in 2013 there were just 30 Men's Sheds in the UK, by 2015 they became a Registered Charity, with a view to providing more formal support to the Men's Shed movement. Fast forward to today and there are over 500 Men's Sheds open and an additional 100 or more in development. That's around 10,000 or more "Shedders", as we call them, benefiting from regular social interactions, new and improved skills, and regular, active participation in activities they enjoy. Our club is open to all adults aged 18 and over.
We suppose it could be conceived as the male answer to the WI!
At the moment, we have passed the start-up phase of the shed. It is "up and running" for more than a year now and has become a second home for the members. We have been offered a dedicated space on the premises at Bransby Horses (which is convenient for all participants), "https://bransbyhorses.co.uk" and are slowly building up interest.
We have succeeded in obtaining 2 secure units 32 x 10 feet, (starting with a generous grant from Sturton by Stow Parish Council),
One unit has been dedicated for "woodworking and wood turning". There are installed work benches and wood turning facilities as a starter.
The other unit is a place where we can brew some drinks and have a natter. In this unit there is also set up a computer corner, where we use PCs, Wi-Fi etc. This also provides the facilities to teach basic computer skills to members.
Opening times are in general Monday, Wednesday and Friday from about 10.00 AM until 1.00PM
So, if you are interested in joining our Shed Club or would like to have a "closer" look, we would be very pleased to meet you and have a chat. Just fill in the contact form and we will be in touch with you!
Finally, if you are in "special circumstances" and are interested in joining, please contact us for possibilities!
We hope this will be a place for all to feel at home!
We hope to see you soon ...... and thanks for visiting our site!
"

" A SHED FOR ALL OF US " 😊

"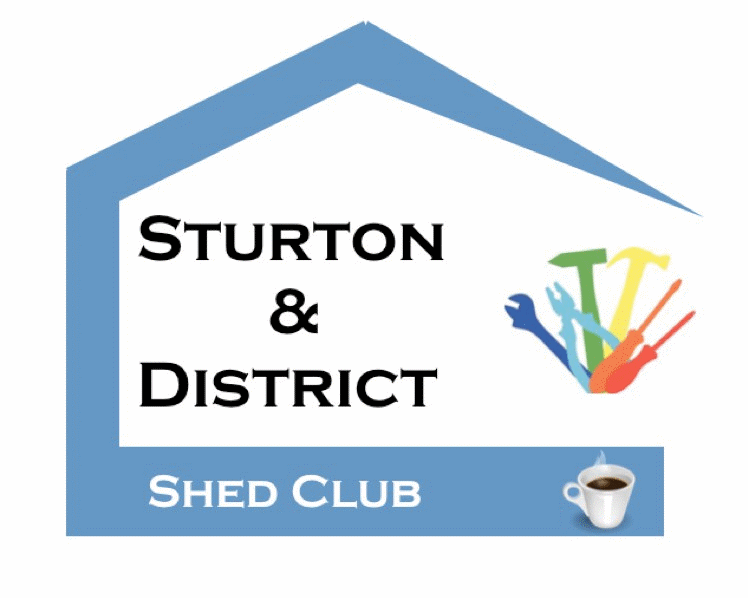 Sturton and District Shed Club