Home
Welcome to the Friary Bowling Club.
2020 is a very special year for the Club, as this is our 200th anniversary. We had planned to hold a number of events to celebrate the occasion, but because of the Covid-19 pandemic and the lockdown, we have had to cancel or postpone most of these celebrations, along with all our normal activities including league matches, competitions and tournaments.
We are now able to reopen the club in a limited way from Saturday 20th June. For full information on the measures we are taking to ensure we can open safely, please read the Guidance for the Reopening of the Club.
The Friary Bowling Club is in a delightful setting not far from the city centre. The club was established in the 19th century and welcomes both men and women.
If you would like to join a small, friendly club with plenty of activity why not use our contact page to send us your details. Our membership secretary will be only too pleased to give you more information.
It doesn't matter whether you have never played before or are an experienced bowler, you will be very welcome. Every assistance and encouragement is given to beginners.
For the convenience of members and visitors we have parking permits for use in the surrounding roads. They are available at the clubhouse.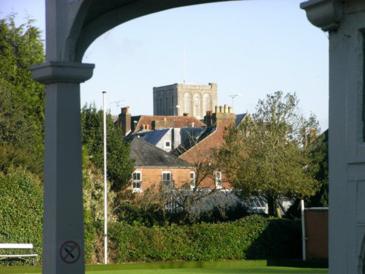 You can read some history of the club here.