Wittersham Parish Council
Noticeboard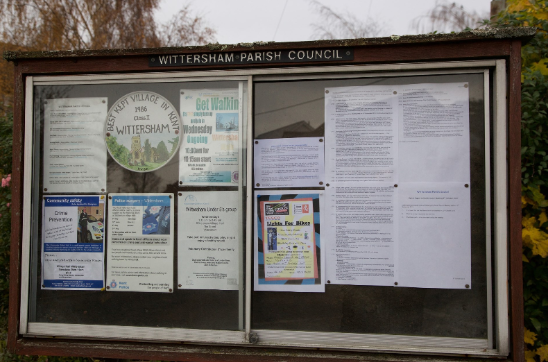 Advance notice - Micro Road Surfacing on Stocks road between Rose Hill & Pound Lane. This should take place over 2 days starting on 18th July between 7am and 7pm,. During this time traffic will be contolled through the site by the sue of Stop & Go boards.
Have Your Say! Rural Transport public consultation 13th June to 8th August 2018. Join the 'big conversation' on rural transport at Homewood School, Tenterden from 7 to 9pm on Tuesday 17th July. It's your opportunity to help shape the future of rural transport in Kent and to share your views. For more information, to take part in the questionnaire and for all their public event dates visit kent.gov.uk/bigconversation
You are encouraged to complete this survey http://www.nationalruralcrimenetwork.net/research/internal/2018survey/ by the Kent Police & Crime Commissioner.
The Parish Council now has its own Facebook page. Please take a look. wittershampc
The online crime reporting system on the Kent Police website is now live and gives members of the public the ability to report crime online rather than by phone (101), which some may find easier, faster and more convenient. This does not replace the 999 service.
Let's work together. The Borough Council has improved its online reporting system, making it easier for residents to report issues such as:
Flytipping, Littering, Dog Fouling, Vandalism, Anti-social behaviour and Planning enforcement.
The new system replaces some of their online forms and allows residents to report incidents and then track their progress via a unique refrence number.
Visit www.ashford,gov.uk/report
Recordings of Parish Council Meetings from December 2016 to date except for April 2017 and January 2018 are now on YouTube. Click on the link below.