Noticeboard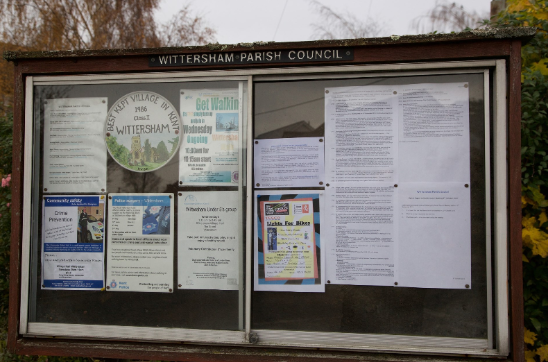 Message from KCC, Ashford Highways Operations Team
Every year throughout the spring and summer KCC Highways & Transportation receive numerous complaints regarding trees, hedges and other vegetation, which overhang the highway from private property. This matter can pose a number of problems for people trying to use the footways, especially if they are trying to pass with buggies, wheelchairs and scooters. It would be greatly appreciated if you could ensure that any trees and hedges that are bordering the Highway are maintained and cut back to your boundary which would greatly benefit all Highway users. This will help us all keep the highway safe and prevent the need for KCC Highways & Transportation writing to you requesting that you cut back your vegetation.
So that you are aware of our requirements, please refer to the text below.
If the boundary of your property borders the footway, then please be aware that:
The full width of the footway/pavement must be available for use by pedestrians.
As well, there must be a minimum height clearance over the footway/pavement of 2.1 metres/7ft for any vegetation.
If the boundary of your property borders the carriageway, then please be aware that:
If you have vegetation that overhangs into the road, there must be a minimum height clearance of 5 metres/16ft to accommodate buses and HGVs that may use the road.
If your property is rural, then vegetation should be 0.45 metres/1.5ft behind the edge of the road and all signs need to be kept clear of foliage.
Also, we would ask that you pay special attention to your trees, hedges and vegetation if your property is on or near a junction, and/or inside the bend of the road, to maintain maximum visibility for road users.
Thank you for the time taken to read this article and we wish you a pleasant summer.
Yours faithfully
Ashford Highways Operations Team
June 2023
The KRF ( Kent Resilience Forum) is launching an online public survey to explore how aware, and prepared, people consider themselves in relation to a range of risks and emergencies that could impact residents of Kent and Medway. This is to help benchmark and inform the work of the newly formed KRF Community Resilience Working Group.
How prepared are you for potential emergencies that could impact your area? Please complete our survey to help us learn how we can help you become #BetterPrepared #KentPrepared. Click on the link here: Community Resilience Survey
Please complete our survey to help us help you become #BetterPrepared for local risks and future emergency incidents. Click on the link here: Community Resilience Survey
Please complete our survey to help shape our plans to make communities #BetterPrepared for future emergencies. #KentPrepared. Click on the link here: Community Resilience Survey
MyAshford portal gives customer access to online services all in one place.
MyAshford is an online customer portal that gives residents access to the various accounts held with Ashford Borough Council in one place. Once residents set up an account they can view council tax bills, find out their rent balance, see who their local councillor is, apply for parking permits and more.
It is easy to set up, just visit our website www.ashford.gov.uk/your-council/my-ashford and follow the simple to follow steps. Once you are signed up, you can link all your accounts under one single sign-on, making it easier to access all your information in one place. The old system has become outdated and needed a revamp, so we have built a new portal from the ground up. With so many different systems associated with the council we are trying to make the customer experience easier by applying single sign-on technology This will enable customers to log into the portal and then able to access linked accounts without having to log in again. We currently have single sign-on set-up for the new Council Tax system, Citizens Access. Over the coming months we will be adding other features like reports, residential and visitor parking permits and managing your rent or garage accounts. Now that the new system is live, we will be shutting down the old MyAshford system on Friday 29 September 2023. Existing users will still be able to access the system until that date, but we recommend residents sign up for a new MyAshford account. We are contacting existing users giving them guidance on how to register to the new portal.
Tracey Kerly
Chief Executive - Ashford Borough Council
A MESSAGE FROM DOVER AND DISTRICT BEEKEEPERS' ASSOCIATION
Help is urgently needed to identify and report the Asian hornet. This arrived in France from China and has spread across Europe. It is not yet established in England, but 6 nests have been found so far this year in Dover and Folkestone Districts. You may find it in your garden or in wasps traps – if you use them.
How can you report a sighting?
Take a photograph
If in doubt go to: https://www.bbka.org.uk/identify-asian-hornet
Contact your local Asian Hornet coordinator who will help you identify the insect using the map at: Asian Hornet Team map | British Beekeepers Association (bbka.org.uk)
If certain it is an Asian Hornet, download the Asian Hornet Watch App and follow the instructions. This is an easy way to report sightings.
If you don't have the App email your photos or videos to: alertnonnative@ceh.ac.uk
Why will they be such a big problem?
Asian Hornets are more defensive than wasps and our native hornet. In other countries they are known to build their nests in sheltered sites such as sheds, roof spaces and garages, sometimes hedgerows and thickets. If their numbers increase, more members of the public will inevitably come into contact with them. Their sting is very venomous and people who normally do not react to wasp stings have been known to be hospitalized.
Asian Hornets are known to feed on many different types of insects including butterflies, moths, beetles and many types of bees. Many of these are vital pollinators and form a key part of the food chain for birds and small mammals. Loss of these insects will also cause loss of these birds, bats and other mammals.
Honey lovers. Asian Hornets also target honeybees. This will inevitably result in a reduced number of honeybees colonies and the associated honey crop.
What does the Asian hornet look like?
Its main features are:
orangey face, mainly black body, one broad yellow band on its abdomen, mostly yellow legs, approx. 2 cm long. It bigger than wasps but smaller than the European Hornet.
Thank you for your help.