Wittersham Parish Council
Noticeboard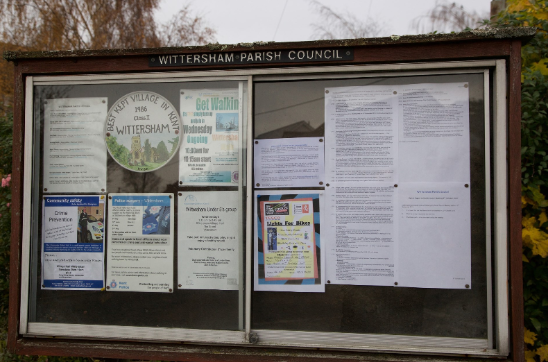 Now that daylight is getting longer and children are playing out more, we would like to remind dog walkers that all dog waste should always be removed from areas where the children play, especially anywhere on Coronation Field and The Green. Thank you.
KCC's official Winter Service period has started and runs through until the end of April 2019. Full details of their Winter Service can be found at https://www.kent.gov.uk/roads-and-travel/what-we-look-after/winter-service
KCC Highways online fault reporting tool. KCC has issued a video, https://vimeo.com/296617796 to take you through how to report highway faults online.
The online crime reporting system on the Kent Police website is now live and gives members of the public the ability to report crime online rather than by phone (101), which some may find easier, faster and more convenient. This does not replace the 999 service.
Let's work together. The Borough Council has improved its online reporting system, making it easier for residents to report issues such as:
Flytipping, Littering, Dog Fouling, Vandalism, Anti-social behaviour and Planning enforcement.
The new system replaces some of their online forms and allows residents to report incidents and then track their progress via a unique refrence number.
Visit www.ashford,gov.uk/report
Recordings of Parish Council Meetings from December 2016 to date except for April 2017 and January 2018 are now on YouTube. Click on the link below.