Noticeboard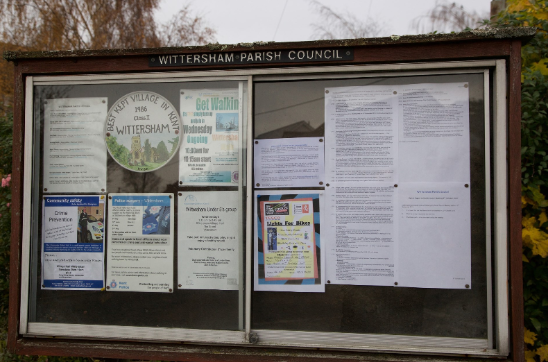 A PUBLIC MEETING
has been called by Wittersham Parish Council to be held remotely by Zoom on Thursday 11th February 2021 at 6.pm.
This is to give residents the opportunity to give their views on two planning applications within the village.
20/01782/AS Poplar Farmhouse – Outline planning permission for up to 23 dwellings together with all necessary infrastructure considering access only (all other matters reserved).
21/00115/AS Land between Tyle House Farm & Mount Pleasant, Stocks Road – The construction of 28 dwellings & 2 self-build plots with associated parking, access, landscaping & open space on land to the north of Stocks Road.
If you wish to attend this meeting please register with the Clerk at wittershampc@googlemail.com so that an invitation can be emailed to you.
If you are unable to attend but wish your views to be known to the Parish Council when it comes for it to make it's decision on whether to support or object to the applications please email them to the Clerk wittershampc@googlemail.com or post to 23 Hilltop Drive, Rye, TN31 7HT by 12th February.
Please be aware that under the government restrictions which came into force on 5th November our outdoor fitness equipment ofn Coronation Field should not be used.
Recordings of Parish Council Meetings from December 2016 to date except for April 2017 and January 2018 are now on YouTube. Click on the link below.
A letter from KCC Highways
December 2020
Dear All
We are now entering the winter period for 2020-21 and we would like to take this opportunity to remind you about Highways & Transportation's winter service provisions.
Please take time to visit our website below:
http://www.kent.gov.uk/roads-and-travel/what-we-look-after/winter-service
This section will provide useful information on:
Salt Bins (including locations)
Gritting Routes
How and when we salt the roads
Clearing snow in the community
The latest weather updates
How we deal with rural roads with help from the local farmers
Tips on Winter Driving
Please also have a look at the Direct Gov Snow Code web site below, which you may find has some useful information and hints: https://www.gov.uk/clear-snow-road-path-cycleway
We also work closely with the local farmers and provide them with the necessary equipment in order to clear country lanes and act as extra resources when we are fully mobilised during a snow emergency.
Our website also provides information on all aspects of highway management, such as our tree policy, information on roadworks and planned works, crash and casualty data. It also allows you to report faults online at http://www.kent.gov.uk/roads-and-travel/report-a-problem
Please take great care on the roads this winter
Highways & Transportation will continue to work hard to keep the roads as safe and clear as possible; however, you can also help us in the following ways:
Drive to the conditions of the road at all times, especially during times of rain, ice and snow
If we do get snow on the roads, please don't make any non-essential journeys
Thank you for taking time to read this information.
The Ashford Team
Kent County Council Highways & Transportation
NOTICE OF VACANCY IN OFFICE OF COUNCILLOR
PARISH OF WITTERSHAM
NOTICE IS HEREBY GIVEN
that due to the resignation of George Parkin, a vacancy has arisen in the Office of Councillor for the Parish Council.
If by 24th February 2021 (14 days* after the date of this notice) a request for an election to fill the said vacancy is made in writing to the Returning Officer at vote@ashford.gov.uk or, Civic Centre, Tannery Lane, Ashford, Kent, TN23 1PL, by TEN electors for the said Parish, an election will be held to fill the said vacancy, otherwise the vacancy will be filled by co-option.
If an election is called it will take place on 6th May 2021, in accordance with Regulation 6(1) of the Local Government and Police and Crime Commissioner (Coronavirus) (Postponement of Elections and Referendums) (England and Wales) Regulations 2020.
Dated 4 February, 2021
Clerk to the Parish Council
Mrs Y Osborne
23 Hilltop Drive
Playden,
Rye
East Sussex
TN31 7HT
*In computing any period of time for this purpose, a Saturday, Sunday, Christmas Eve, Christmas Day, Good Friday, a bank holiday or day appointe4d for puyblic thanksgiving or mourning must be disregarde.