Halam C of E School PTFA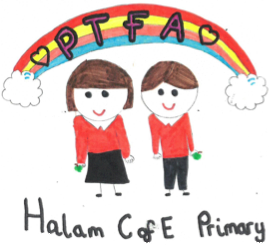 The PTFA (Parent, Teacher & Friends Association) meet at the school on the 1st Thursday of each month and it's main objective is to raise money to purchase Items for the school to enhance our children learning.
The Commitee includes:
Chair - Chris Bevans
Secretary - Suzzane Ian
Treasurer - Nick Farrar
100 Club Leader - Julie Colella
Events Co-ordinator - Amanda Key
If you would like to contact the PTFA for any reason please drop the Chair an Email or call him on 07967 132014
Ways to support Halam PTFA
Easyfundraising
If you would like to help to raise funds for Halam School PTFA at no cost to yourself please click here
100 Club
We have a monthly 100 club draw and there are 2 cash prizes each time.
If you are interested in purchasing a number they are £10 for the year entering you into all 10 draws throughout the school year please contact the Chair using the details above.