The Waggon at Halam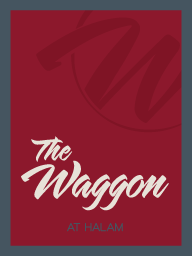 The Waggon at Halam is a country pub that offers tasty locally sourced food and award winning cask ales, world beers and wines.
Our pub may be full of history, but we're actually quite new. Our recent refurbishment has created a modern, stylish and homely interior and we have a popular sun terrace perfect for those rare sunny days! We aim to offer a warm welcome and a place where you want to come and relax.
As with any good country pub, we're passionate about quality, home-cooked food. Our chef works closely with local suppliers to create a menu that is filled with tasty great value for money dishes – Take a peek at our menus. We're equally proud of our beers and serve a great selection of cask ales, world beers and wines.
So whether you join us for a drink with friends or dinner with family we hope you pay us a visit soon.
For online bookings, please contact our Facebook Page, give us a call on 01636 813109. We would love to hear from you.
Ed Hackland and team