Neighbourhood Plan Group
Milborne St Andrew Neighbourhood Plan
Why do we need a 'Neighbourhood Plan' for Milborne St Andrew? I believe for too long the community, that is all of us, do not have a real say on where new houses are to be built, who they are for and whether they are cheap enough to buy or rent. We have little influence on decisions that are made by politicians or planners locally, but this is our real opportunity to make a difference. Milborne St Andrew Parish Council supports the Neighbourhood Plan Group and in 2014 we have been granted the Neighbourhood Plan Area Status. The area covered by the plan is the whole of the parish as shown here.
Milborne St Andrew Neighbourhood Plan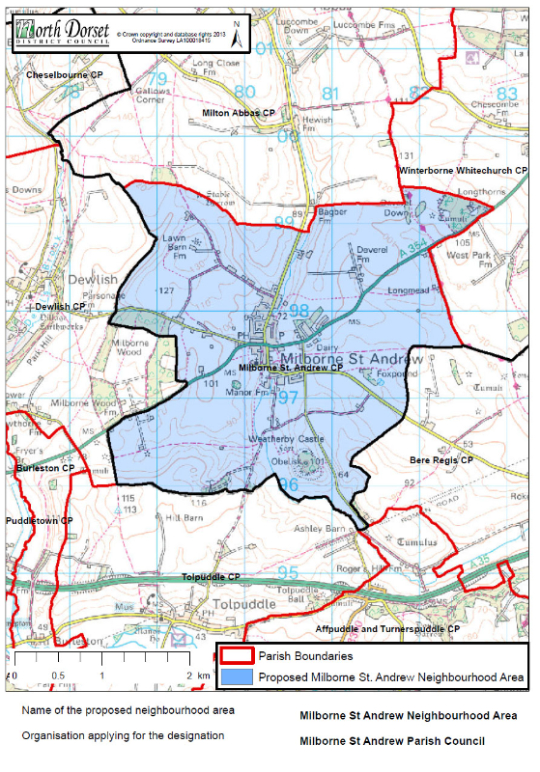 As a result of the success in being granted this opportunity to influence how our community grows a small team of volunteers has come together to push forward your ideas and suggestions for our village and community. We currently meet monthly to debate the way forward. We have held 3 'Open Days' whereby residents, businesses and land owners have had an opportunity to discuss, with members of the team, issues that concern them on the development of housing, new businesses, provision of health care in the parish, child care and care of the elderly. This is not a quick fix but a project which will take some time to put together.
The members of the team are:
Mike Brown
Georgina Carrington
Sue Cherry (Parish Councillor Representative)
Dave Gould
Sue Gould (Secretary)
Ronald Hogg
Michael Hopper
Jo Witherden (Chairman)
We are grateful to Colin Hampton (Milborne St Andrew's Parish Clerk) for monitoring and administering our grant funding.
We are looking to the future of Milborne St Andrew so that those looking back can say we live in a great village with good homes and facilities unspoilt by inappropriate development. We are always on the lookout for more people to come and help, if you feel that you want to contribute your expertise or just love of this area – contact us on npg@milbornestandrew.org.uk
You can also follow the NPG's activities on Facebook at:- https://www.facebook.com/pages/Milborne-St-Andrew-Neighbourhood-Plan/798102700248126