The Evington Hall
History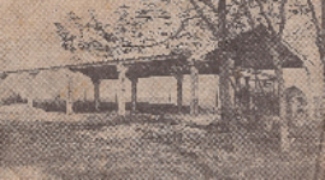 The Hall under construction in 1954
(photo courtesy of Kentish Express)
The parishes of Elmsted and Hastingleigh had their first village meeting room in 1895 when the Reverend Anthony Collett, Vicar of Elmsted and Rector of Hastingleigh, funded the building of a Mission Room in Hastingleigh. The Parish Room (as it was known) had a maximum seating capacity of 60 and so, by 1948, talks on replacing the Hall with a modern, larger building were already underway.
In 1949, it was decided that a new building should be built on a site at Evington Lees, near the Village Pond. Money was tight and grants were not immediately forthcoming, so the parishioners of Elmsted and Hastingleigh set about raising the money themselves by organising Dances, Whist Drives and Social Evenings. The greatest fund raising events for the hall were the Elmsted and Hastingleigh Carnivals that were held on Whit Monday, regularly attracting over 2,000 people.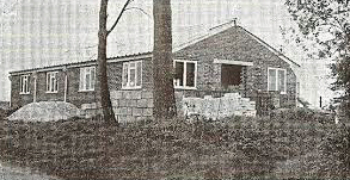 Nearing completion in 1960
(photo courtesy of Kentish Express)
The Evington Hall (so called as the land upon which it is built was part of the Evington Estate) was opened in 1960 and was extended in 1974 to incorporate a permanent stage and storage at the rear. Major refurbishment of the toilet facilities and other improvements were undertaken in 2016.