Cross Park - Open for All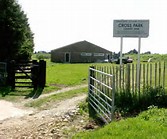 The Cross Park site is looking to the future. The parish council are working with a new set of Cross Park Association Trustees to investigate how to best maintain and improve the facilities for the villagers. The building has been redecorated and a serving hatch installed between the kitchen and the hall. Free Wi-Fi has also been installed.
1) Access
There are discussions underway to create a 'permissive' footpath between Cross Park and the Recreation Ground - this would create shortcuts between the central and middle parts of the village to Cross Park, British Pilot and the seawall as well as opening up circular walks.
2) Pavilion
The pavilion is set to open for business and will be holding regular events during the day and ad-hoc events during the evening. Contact Rachelle Freeguard 01634 271115 (07852 498203) or Lisa Newstead 01634 272942.
3) Recreation
The local football team had been unable to use the pitch due to lack of changing rooms. They have placed a modular building behind the pavilion to act as a temporary changing rooms and is connected to water and electricity following a grant from Medway Green Spaces (S106 contributions). Longer term it is planned to build an extension to the pavilion which will include purpose built changing rooms, funded by Turners Group (Kingsmead/Allhallows Park) as an addition to their proposal for 82 extra chalets.
4) Country Park
The wildlife area of the park continues to undergo tender loving care (TLC) and the pathways cleared. There has been new planting and management by a volunteer and friends.
The parish council were approached about a project to infill part of the site and create a new woodland, but after public consultation this was dismissed.
Plans to extend the Kingsmead/Allhallows Park by 81 units has been approved an building works due to start in Autumn 2021. As part of this they will provide the permissive footpath (see 1 above) and will look to partner with the parish council to provide shared facilities for the use of their residents and the residents of Allhallows, at their cost. Suggested facilities are :
a) Bowling Green or Tennis Courts (on the plateau) (to be confirmed)
b) the permissive path
c) extensions to the current pavilion to provide a new community centre, including permanent changing rooms, indoor sports and social facilities.
A public exhibition was held on Thursday 30th November 2017 and Turner's submitted a planning application. The parish council is continuing to discuss the fine detail of the benefits and issues of the s106 facilities.
The Planning Application for Allhallows Park (Kingsmead) was approved by the Medway Council Planning Committee 20th March 2019.
Keep in contact for more information about the site.