All Saints Church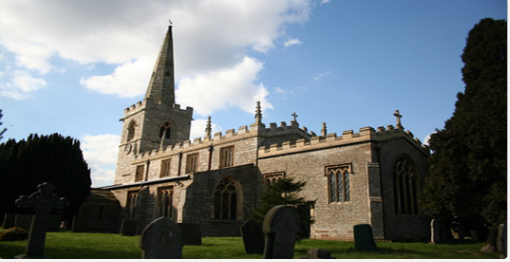 Brief History
All Saints Weston is a Grade 1 listed building and is mentioned in Domesday. It is thought that the tower and nave are the oldest parts of the church and that these were built in the 13th century. The two sides aisles to the nave were added a little later. The chancel was built in the 14th century.
In 1840, the church underwent extensive repairs including the rebuilding of the chancel, these repairs being paid for by the then rector. In 1880, E Browning, an architect from Stamford, oversaw an extensive restoration project, which included a new roof, oak seats and pulpit. The Earl Manvers contributed £1,000 towards the works. At some time the chancel screen was removed; part of it can still be seen as it is now incorporated in the vestry paneling. There are three bells, one of which was manufactured by R Mellors of Nottingham and dates from 1550.
In the churchyard, the sundial stands on the base of the former village cross and dates from 1795. A tapered octagonal shaft with broach stops, it carries a brass dial inscribed 'G S 1795'.
The earliest recorded baptism in the Church is 6 December, 1559; marriage is October 1559 and burial 26 November, 1649.
In 1980 Weston ceased as a separate parish, becoming part of a united benefice with Tuxford and West Markham and other local parishes.
[Source: A Glimpse of Weston and Moorhouse 1600-1900 by Weston and Moorhouse Local History Group. © Workers Educational Association East Midlands District 1988]
All Saint's Church today
Weston is in the Church of England diocese of Southwell and Nottingham and is now part of the United Benefice of Tuxford alongside the neighbouring parishes of Markham Clinton, Marnham and Normanton-on-Trent.
As part of its mission to serve the local community, All Saints Church is open for enquires for baptisms, weddings and other services. More information for services and application forms for weddings and baptisms can be obtained by contacting the vicarage. [Email : tuxfordbenefice@gmail.com]
Contact Information:
Rev Greg Price, Vicar and Incumbent, The Vicarage, 30 Lincoln Road, Tuxford, Notts. NG22 0HP
Tel: 01777 872917 Email: revdgregprice@gmail.com
Church Wardens
Angie Emery 07920792912
The latest version of Wellsprings, the United Benefice newsletter is available to download from here