Clive Parish Council
RAF Shawbury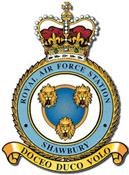 Welcome to RAF Shawbury
In the course of a typical year around 1000 students from across UK Defence and international partners are trained to meet the challenges of military service. The Defence Helicopter Flying School trains aircrew for all three military services and the Central Flying School (Helicopter) delivers the next generation of helicopter instructors. The School of Air Operations Control trains the next generation of controllers, delivers specific pre-deployment training to those about to deploy on operations and trains selected personnel as instructors. The mission of RAF Shawbury is to ensure that personnel are robust and resilient as well as technically second to none; a 'whole force' of military, civil service and contractor personnel provided by Cobham Aviation Services (Helicopter Services) work together daily to deliver Shawbury's output safely and efficiently.
Gp Capt R S Norris MA RAF
Stn Cdr
A liaison officer from RAF Shawbury usually attends every meeting of the parish council. Any news regarding the RAF will appear in our Minutes and on this website.
The Parish Council also has a representative on the Helicopter Noise Liaison Group, which meets every few months.
So if you have any questions or matters to raise, do come along to a parish council meeting, or contact the Clerk who will pass on your comments.
Link to RAF Shawbury: http://www.raf.mod.uk/rafshawbury/