Attractions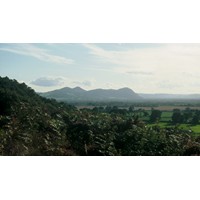 Nesscliffe Country Park lies just off the A5 between Oswestry and Shrewsbury. The Old Three Pigeons Inn, dated back tothe 1400s, is located at the entrance to the Park and was said to be the watering hole of Humphrey Kynaston. Inside, the seat from Kynaston's cave is now part of the Inn's fireplace. The park itself is divided into three areas, Nesscliffe Hill, Hopton Hill and the Cliffe. Shruggs Common believes to be the smallest common in Shropshire of approximately 1/4 acre, is found on Nesscliffe Hill.
Visitors have an area of mixed woodland and heathland about the size of 140 football pitches to explore. Within the site there is an iron age hill fort, a series of impressive quarries which supplied stone for some of Shropshire's' castles and churches, and a cave hewn into the sandstone, which is said to have been the hideout of the medieval outlaw Humphrey Kynaston.
Nesscliffe Hill and the Cliffe covers two wooded hills and part of a heather covered ridge, and gives expansive views over the Shropshire countryside and Welsh hills.
Walking, horse riding and cycling
Waymarked circular routes provide easy off-road cycling and horse riding as well as walking.
Some easy, reasonably level walking from Pine car park.
Long walks over mixed terrain. Stout footwear recommended for this as some paths can be very muddy.
Nesscliffe Rock Cave
The Nesscliffe Rock Cave is part of the Nesscliffe Country Park. It is a small sandstone cave and is better known as Kynaston's Cave as it is the place he and his trusty steed Beelzebub sought refuge. The entrance to the cave is six metres high and stairs were cut into the soft rock, however over time the stairs have eroded so a wooden staircase was built to enable access to the cave. Inside the cave you can see two chambers approximately four square metres big and the date 1564 carved in to one of the walls, followed by the initials of H.K. Humphrey Kyanaston. Unfortunately the cave is not publicly accessible at present.
Nesscliffe Hillfort
Nesscliffe Hillfort, is a Scheduled Ancient Monument, was clear-felled earlier in the year. Much work and fencing has been done to enhance the hillfort in recent years, including a recent archaeological dig.