Past Events 2016 - 2017
The Bridge Afternoon on Thursday 27th April 2017 in the Hall raised £1,000 towards hall funds! Thanks especially to Viv Pain and her team of helpers.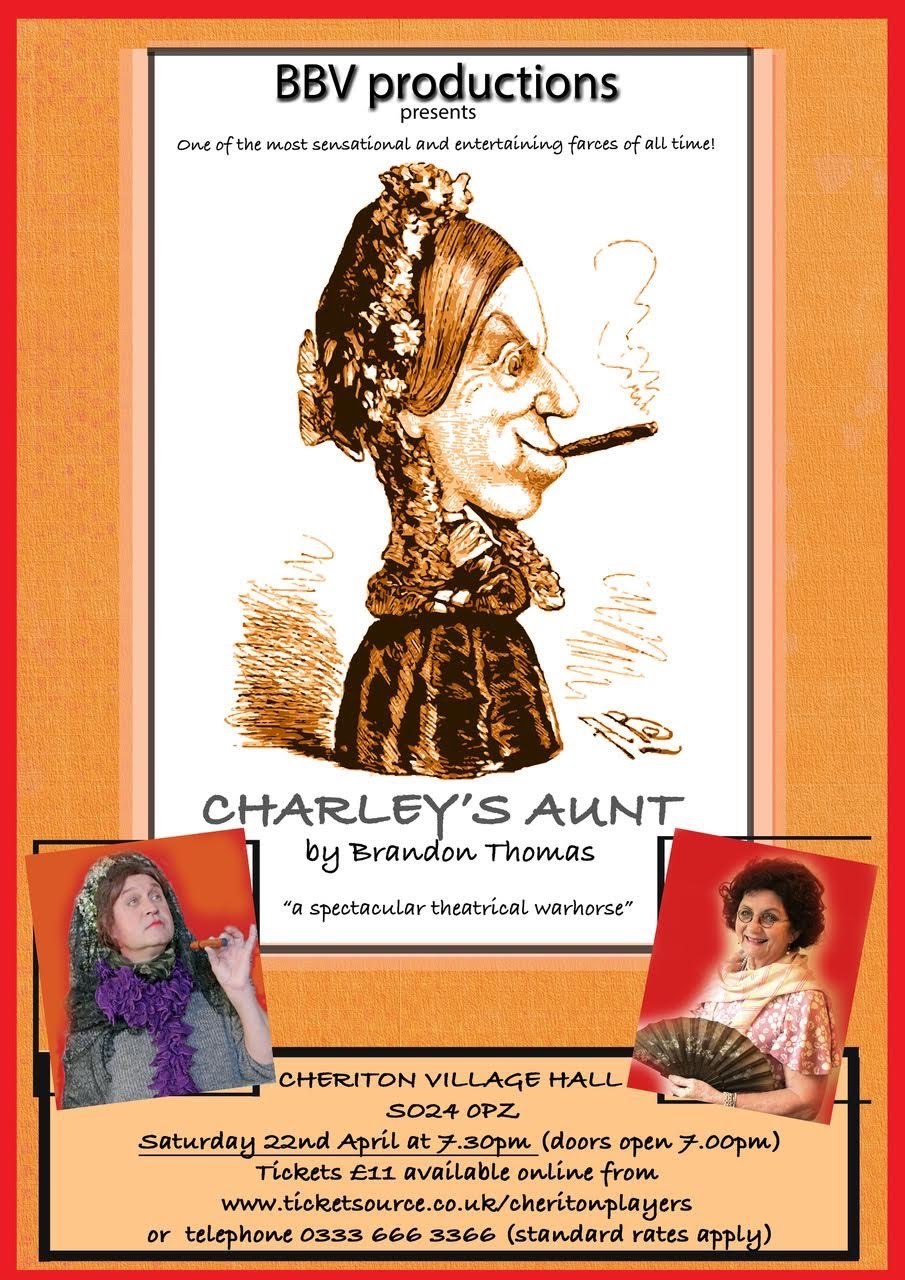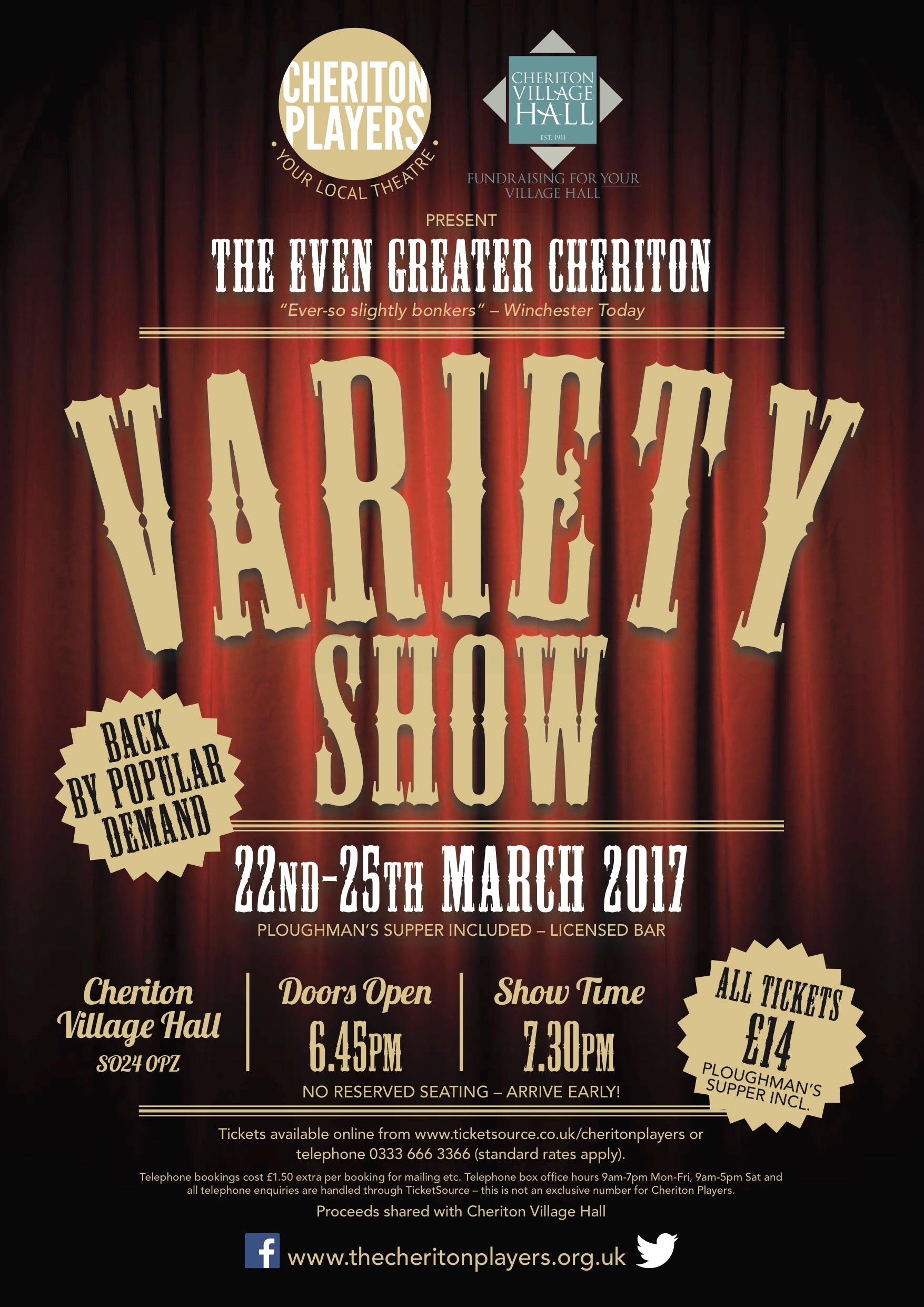 THE EVEN GREATER CHERITON VARIETY SHOW 22 to 25 March 2017 raised more than £2,000 for the Cheriton Village Hall Fundraising Campaign!
From the Cheriton Players Website..................
A fund raiser for the Cheriton Village Hall, and back by popular demand, The Cheriton Players and the Cheriton Village Hall committee presented the Even Greater Cheriton Variety Show to packed houses over four nights in March 2017.
Even as Kevin Gover was writing the words "…ever so slightly bonkers…" about the first Great Cheriton Variety Show, the wheels were already in motion to provide something that ripped bonkers away from its creature comforts to give it a taste of its own medicine. So a table format, with licensed bar and a light supper helped prepare our audiences for an evening of Cheriton style entertainment.
There were songs, laughter, sketches and audience participation galore. Included in our line-up was a 'cinematic' melodrama, acted out in true silent movie style, then reversed and even speeded up. The Echo reviewer said there were some 'stand out moments' and included in these the title duet by young Sophie Jarrett and Toby Cooper from Phantom of The Opera, stage so successfully at Perins School in the summer of 2016, and Ali Carter singing 'Summertime' from Porgy & Bess.
For a full list of acts and cast/crew, have a look at our online version of the programme.
For reviews, see online at The Daily Echo and Winchester Today.
At the Heart of Our Village
NOTICE OF MEETING TO COMMENCE VILLAGE HALL FUNDRAISING
AT THE HEART OF OUR VILLAGE CHERITON VILLAGE HALL FUNDRAISING LAUNCH FRIDAY 3rd MARCH 2017 DRINKS FROM 7PM in CHERITON VILLAGE HALL
THE CHERITON VILLAGE HALL COMMITTEE WARMLY INVITES YOU TO THE LAUNCH OF THE CHERITON VILLAGE HALL FUNDRAISING CAMPAIGN
SEE THE LATEST OPTIONS ON HOW YOUR VILLAGE HALL CAN BE TRANSFORMED
RACE NIGHT 4 February 2017
On behalf of the Village Hall Committee, many thanks to
THE CHERITON PLAYERS for organising a very enjoyable RACE NIGHT in Cheriton School on Saturday 4th February 2017, and which raised a staggering £526 towards the Village Hall Fundraising effort!
LEARN MORE ABOUT THE 2017 FUNDRAISING EVENTS PROGRAMME
PROVIDE US WITH FEEDBACK
WE LOOK FORWARD TO SEEING AS MANY OF YOU AS POSSIBLE AND THANK YOU FOR YOUR SUPPORT TO DATE
'RAILWAYS IN MY BLOOD'
Martin Hubbard's talk on Monday 12th December 2016 raised a superb £140 for Hall funds