Crofton Bowling Club
Accessibility
Summary:
There is good accessibility for the mobility-impaired, at Crofton BC's Stubbington Bowling Green, but there are also some limitations, particularly for wheelchair users.
Detail
The car park, location and green surrounds are fully accessible by the mobility-impaired.
In the free public car park by our green, closest to the Club/Green entrance are two mobility parking spaces with appropriate dimensions, and marked with the standard International Symbol of Access, with a choice of two dropped kerbs available to get to the club entrance gate. There are other mobility parking spaces in this same car park, albeit further from the Club/Green entrance, plus, on an exceptional basis, mobility parking spaces by the entrance to the Community Centre intended for their Centre users; there are accessible pathways, all with dropped kerbs, from all of these additional mobility spaces to the Club/Green entrance.
A step-free path then leads into the Club/Green, the green surrounds and the club buildings.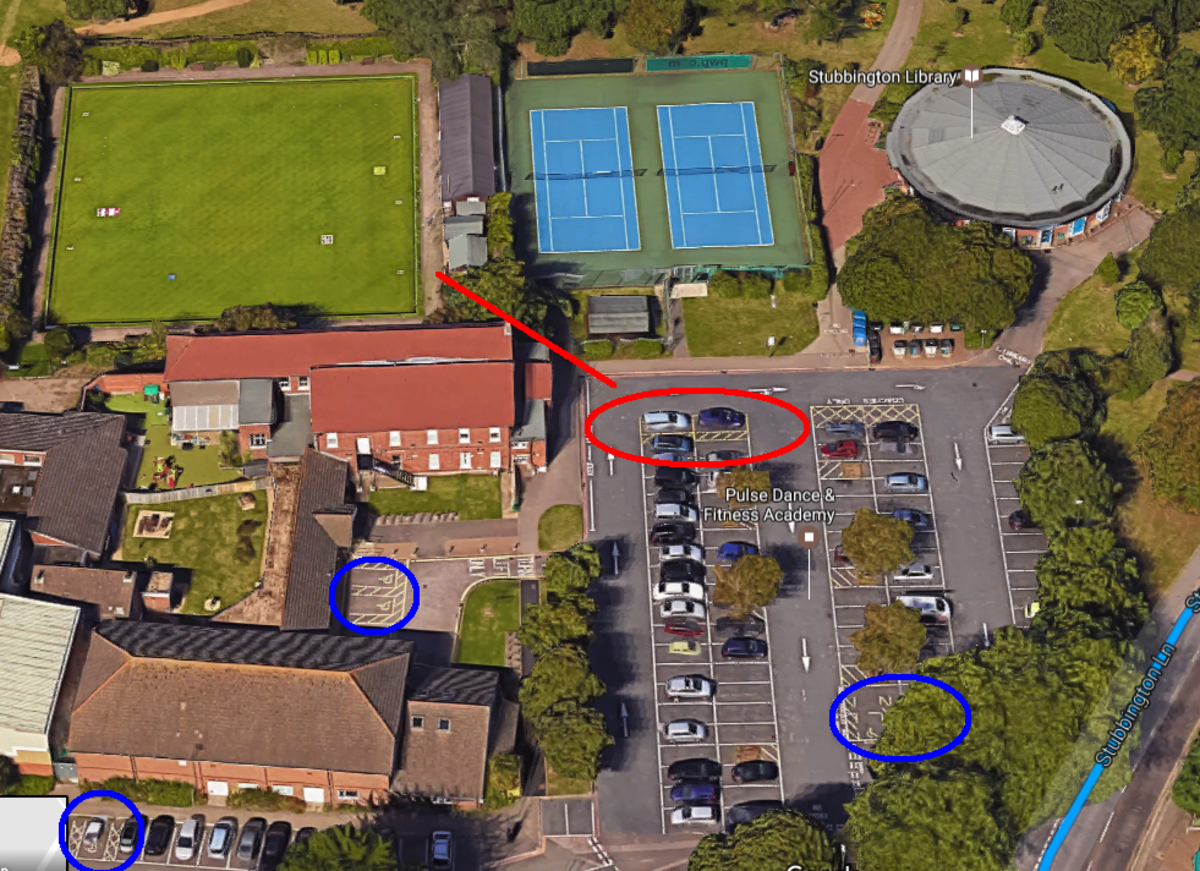 Access to the paths and 'banks' around the green is good.
Around the green, there is further bench seating, via a level path, without thresholds.
Immediately outside the pavilion is a flat area, with sheltered bench seats.
The buildings (clubhouse, changing rooms, equipment stores) have step thresholds of varying levels, representing a level of accessibility challenge.
The single-level pavilion doorway has a low threshold, with a double-opening door. There are no raised internal doorway thresholds within the clubhouse. There are no toilets in the clubhouse building.
There is no designated accessible toilet on site, although there are two accessible toilets close by:

an accessible toilet in the Crofton Community Centre (which is itself accessible) about 60 yds (50 m) from the club, along a level footpath, and open 09:00-22:00 weekdays and 09:00-17:00 weekends; it's next door to our club.
an accessible public toilet (Radar Key scheme) on Stubbington Green about 165 yds (150 m) from the club, along level footpaths, open 07:30-20:00 24/7; it's just past the Library on the way to the Stubbington Centre shops.

The club's ladies' and men's toilets have no accessibility-specific attributes. The toilets are located in the respective changing rooms, and each such room/building has a threshold step.
The two equipment stores each have a raised doorway threshold step.
The bowling green itself has some accessibility support.
There is a portable step, with a handrail, used to assist the mobility-impaired in moving between the green surround and the green itself; however, there is, regrettably, no level-surface access to the green, so 'bowling wheelchairs' cannot be readily accommodated.
Please contact us for any accessibility queries, and we'll be happy to assist.
Accessibility-oriented images are shown below:
Hover over (or click), an image to reveal its caption
Click the slider arrows to scroll the images
Click an image to enlarge it, then use arrows to view all enlarged images sequentially.