Your Hampshire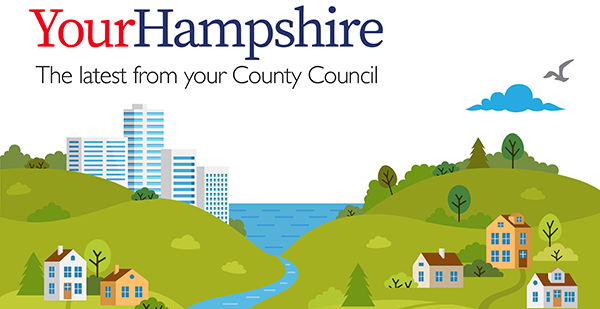 Open Your Door to becoming a foster carer
If you've ever thought of becoming a foster carer, now is the time – the County Council is urgently in need of more foster homes for the children in our care.
We work hard to help keep children with their families, but the number of young people in need of a secure and loving foster home is still rising. There are currently 200 more children in the care of the County Council than there were in 2018.
We need at least 150 additional fostering households by the end of 2023 to provide a stable loving home, and to help make a real life-changing difference to a child in need.

If you think this is something you could do, support is available to help you at every stage, and the rewards are many – both to you and the young people of Hampshire currently in our care.
Year R says 'Yes To Success' with free school lunches!
If your child started school for the first time this month, knowing they'll get a healthy, delicious meal every day is one less thing for you to worry about. And with the cost of living a concern for everyone, it's good to know children in years R, 1 and 2 get their lunches free of charge.
As school lunch time is a fantastic way for children to share the experience of trying new foods with their friends, our award-winning educational catering team, HC3S, encourages the youngest school children to adopt great eating habits by providing:
a variety of tasty meals
seasonal and themed menus during the year
firm favourites like Fish on a Friday!
To help your child to get the most out of their school lunches, check out the special guide full of tips and ideas on how to encourage your little on to eat independently and try new foods.
Supporting people with autism
We'd like to hear your views on the proposals from Hampshire's Autism Partnership Board for our new approach to autism – developed in response to the latest National Autism Strategy.
Our plans aim to bring together the current separate ways of supporting autistic adults and autistic children into a single, all-age Hampshire Autism Strategy.
The proposals centre around six priorities to help improve the lives of autistic people and those who support them:
Improve understanding and acceptance of autism within society
Improve autistic children and young people's access to education, and support positive transitions into adulthood
Support more autistic people into employment
Tackling health and care inequalities for autistic people
Build the right support in the community, and support people within inpatient care
Improve support within the criminal and youth justice systems.
If you have a view and would like to help shape our new approach, please complete the survey by Sunday 9 October.
'Save a tonne' with reusable nappies
If you have children, you'll know just how many nappies you can get through – around 4,000 by the time your little one reaches two and half! That's up to 920kg of single use disposables – nearly a whole tonne of waste, all heading for landfill.
If you want to help in the fight against climate change and save money, there has never been a better time to give reusable nappies a try, as Hampshire councils have joined together to secure a 15% discount on reusable nappies for residents.
All you need to do is register your postcode and you'll receive your 15% discount code to use at any of the six participating retailers.
You can also 'try before you buy' courtesy of one of the county's nappy libraries, where you can loan a reusable nappy kit to suit your needs:
Andover Nappy Library
Eastleigh Nappy Library
Farnborough Nappy Library
Greener Brockenhurst Nappy Library
Overton Nappy Library
Petersfield Nappy Library
Portsmouth Nappy Network
Autumn vaccines
Respiratory illnesses become more common in winter so, if you are eligible, it is important to get your COVID-19 autumn booster and flu jab. Both can stop you from becoming seriously ill. If you are aged 50 or over, are pregnant, or at high risk due to a health condition, you will be eligible for COVID-19 booster and flu jabs.
Buy 'Solar Together'
With energy bills increasing you might be considering solar panels. Our Hampshire group-buying scheme, Solar Together, is open to registrations until 27 September. The scheme is supported by the County Council giving you confidence on price and from pre-vetted installers – while supporting efforts towards making Hampshire carbon neutral.
Suicide awareness prevention month
Suicide is a difficult topic to discuss, but often a simple intervention can make a difference. To support suicide prevention awareness month, learn about the myths surrounding suicide, and understand where to go for help. Take a few moments to read how to spot the signs – in yourself or others, discover the self-help App and guidance available, and make a note of useful links for further advice.
Share your views on highways
It's not too late to share your views on the National Highways and Transport Network public satisfaction survey 2022. The survey focuses on the County Council's highways and transport services, including the condition of roads, provision for cyclists, public transport and how utilities' works, such as gas and water, are managed on the road network. You have until Friday 30 September to complete the survey.
Places awards 2022
You have until Monday 26 September to vote in the People's Choice Award for your favourite place across Hampshire and the Isle of Wight – we hope your vote will go to Romsey's rejuvenated Market Place, upgraded through a County Council scheme, in partnership with Test Valley Borough Council and Romsey Town Council – increasing the town's vibrancy and vitality.
FREE walks in Hampshire
It's a great time of year for walking. If you fancy rambling somewhere new, take a browse through the dozens of FREE mapped walk guides covering the whole of Hampshire – from The Testway to Liphook, to Hayling Island to Godshill in Fordingbridge. And if you enjoy knowing a little more about where you walk, you can choose from our list of story trails and read as you stroll!