Phase 2 - Outside Brookmead School
Following a 5 year process of Safety Audits, Outline Schemes and seeking funding arrangements, Phase 2 of the Ben Hamilton Baillee project (Ivinghoe Safety Scheme) is now in its final phase of being technically designed ready for implementation (hopefully) in July/August 2022.
The proposals are being planned following a wide consultation with residents of both Ivinghoe and Pitstone whereby it was overwhelmingly agreed that Ivinghoe Parish Council should persue their part of the safety scheme (Pitstone have their own safety scheme and implementation plans). Those plans included changes to Station Road, Church Road, High Street in Ivinghoe as well as other changes planned for Great Gap and the major B488/B489 junction by Handpost Cottages.
As work has progressed it became clear that safety features to enhance the presence of Brookmead School became a major priority.
The following drawing is only a preliminary plan of what is proposed and items shown are indicative only. It is still subject to an informal consultation, a traffic order and final safety audit.
A brief outline of some of the features
The design concepts here are
To provide a more visible presence to motorists that they are within a school zone
The scheme incorporates
Red anti-skid tarmac surface across the whole school zone
Buff coloured anti-skid tarmac for the bus stop area
Road markings to give the appearance that the road is narrower
'Pencil' bollards in various colours (see picture) to highlight both the school and children's presence
Treatment of the verge opposite to increase sight lines for motorists
Additional road markings on the approach to the area
Definitive road markings to delineate the end of the roadway along the side of the brook.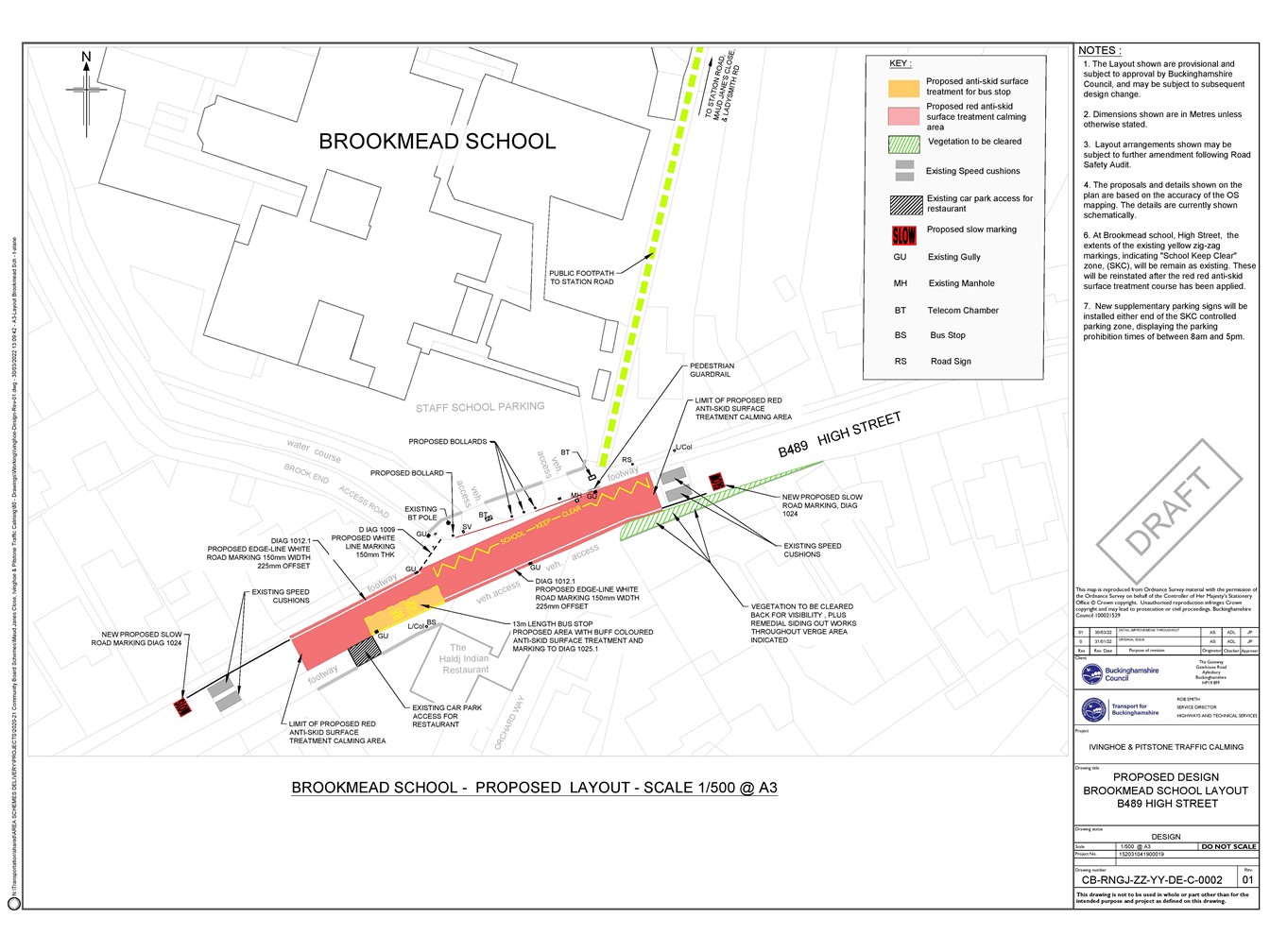 It was envisaged that the speed limit would be reduced to 20mph along this stretch of the road, but we have not been given permission yet to enable this to happen. We will be actively pursuing this to be implemented at a later date, if funding is available.
This phase of the Safety Scheme is partly within Pitstone and partly within Ivinghoe and as such both Parish Councils have had an input in its design. We have also consulted with Brookmead School.
Some works are due to start late April/early May with the anti-skid surfacing going down. Full completion is expected during the school summer holidays.