The Clatfords Bridge Club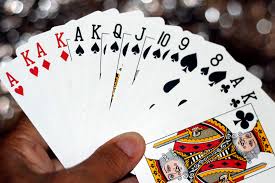 The Clatfords Bridge Club
The Catfords Bridge Club has been meeting in the Village Club at Goodworth Clatford for many years and offers a great opportunity for people to meet and play bridge. The members meet on Wednesday evenings between 1900 and 2200 with play starting promptly at 1900. The first Wednesday of each month is Partners night when we play Rubber Bridge. On other evenings, we play Chicago.
We currently have about 15 regular member players and visitors and new prospective members are always welcome.
Membership Costs:
Annual membership is £15.00 plus £3.00 per session.
Visitors are welcome and pay £5.00 per session.
Improvers Course
The Club is starting an Improvers Course in January 2019, which will facilitate supervised play and discussion of hands, and is a perfect way to build your skills and confidence. If interested, please register your interest by contacting the club – details provided below.
The club is unable to cater for complete beginners but is able to point anyone interested in starting to play to local sources of tuition and will welcome you on the Improvers Course in due course.
Contact
If interested in further information, please either complete the form below or:
Register