SH Memorial Unveiling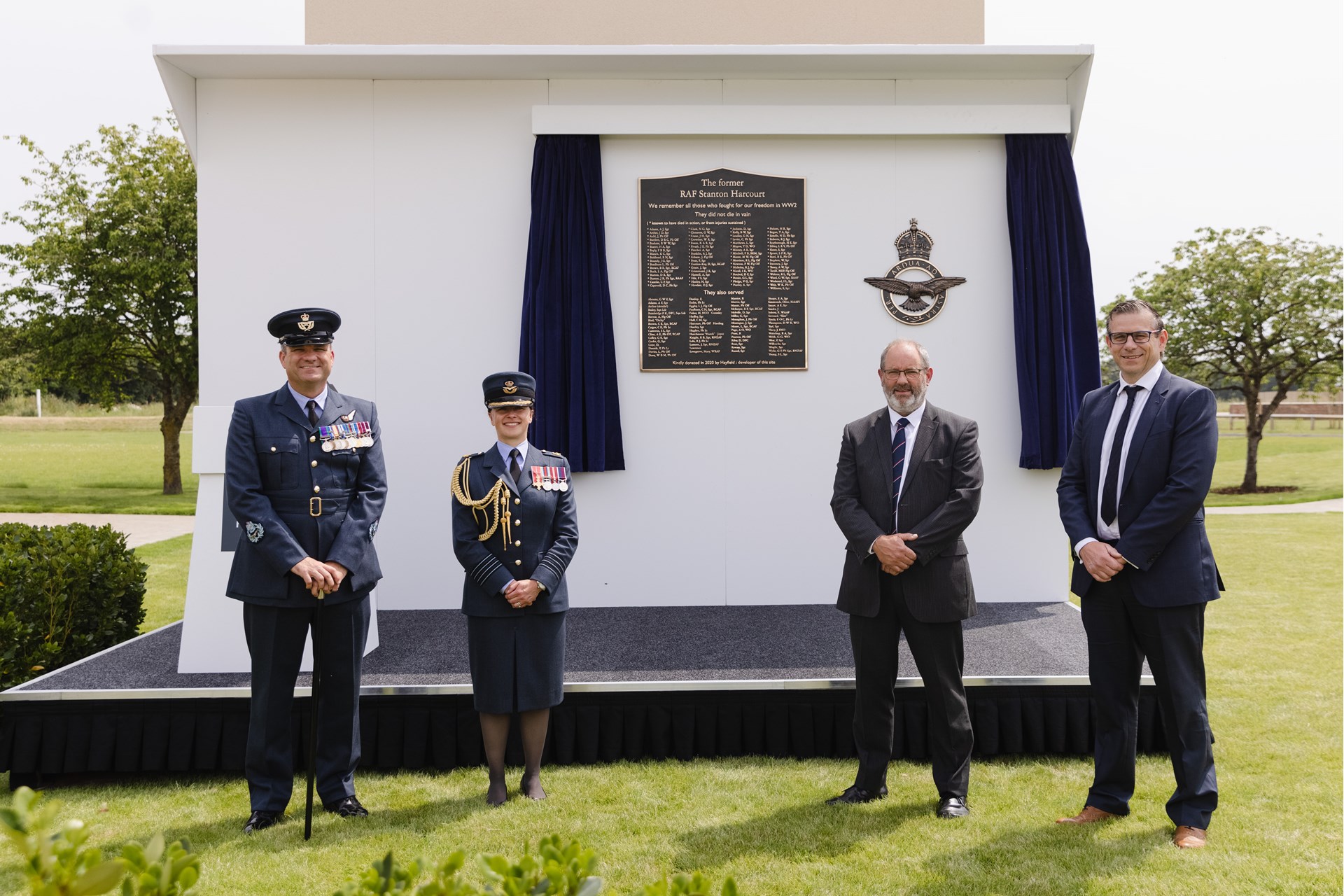 Memorial to the Former RAF Stanton Harcourt Unveiled at Hayfield Green
A large bronze memorial plaque commemorating the 135 heroic men and women who served at RAF Stanton Harcourt in WWII has been unveiled by Group Captain Emily Flynn, Station Commander of RAF Brize Norton. The poignant ceremony involved over 100 local residents and school children.
Measuring nearly two metres high, the plaque will be permanently mounted to a former Water Tower, located at Hayfield Green – the residential redevelopment of the West Oxfordshire airfield. The plaque has been designed and produced by Derbyshire-based military memorial specialists Leander Architectural, following many months of research by housebuilder Hayfield, Stanton Harcourt Parish Council, and the RAF Air Historical Branch, based in Middlesex.
In May 1940, George Wimpey & Co and British Runways Ltd commence construction to create RAF Stanton Harcourt. In only four months – with a fatal enemy attack part-way through – the brave team of construction workers had completed three tarmac runways, a range of associated buildings and structures, together with vital anti-aircraft defences. The RAF base is notable for having been a departure point for Winston Churchill for the pivotal Casablanca Conference in January 1943. Prior to that – in July 1941 – the Stanton Harcourt airfield was also a starting point for a bomber raid on the German battleship Scharnhorst.
Hayfield has painstakingly restored the original air raid and blast shelters, Guard House, Water Tower and Bomber Training Building, immortalising the history for generations to come. In addition, the multi award-winning housebuilder is in the final phase of construction for the 66 houses, bungalows and maisonettes that have been sensitively designed across the 21-acre site. The redevelopment also includes a rich landscape of swale networks, native species planting, gateway tree retention, and the creation of inviting formal garden areas.
Andy Morris, Managing Director of five-star housebuilder Hayfield said: "We are immensely proud that there are nine buildings and structures – together with sections of the airfield runway – which date back to 1940 that you can see here today at Hayfield Green in all their former glory. It was very important to us when we first considered this development opportunity to find sensitive ways to retain and restore as much of the originality of RAF Stanton Harcourt as possible. Unveiling this highly impressive permanent memorial – which names all 135 heroic men and women who served here during WWII – is a fitting tribute to this village's contribution to securing all our freedom."
Following the unveiling of the memorial, a large time capsule filled with the work of children from Stanton Harcourt C of E Primary School was buried at Hayfield Green by Group Captain Emily Flynn, together with pupils Henry Wallom and Elodie Fleet. The contents of the time capsule depict what life is like in Stanton Harcourt in the present day.
Group Captain Emily Flynn, Station Commander of RAF Brize Norton said: "RAF Stanton Harcourt opened to flying on 3rd September 1940 when a fleet of Whitley aircraft arrived at the newly created base, having previously been detached to Jurby in the Isle of Man. For the four years that followed, this site played a vital role in supporting the efforts of nearby RAF Abingdon.
"I am delighted that representatives from the local community were able to come together in a socially distanced fashion to see this permanent memorial unveiled. The men and women who served at RAF Stanton Harcourt will never be forgotten and we are all indebted to their heroic contribution to WWII."