Security & Police Advice

BEWARE! Fake Text Messages
These fake text messages purport to be from EE and claim that you haven't paid a bill. The link in the message leads to a phishing website designed to steal your EE account login details, as well as personal & financial information.
Don't be tricked into giving a fraudster access to your personal or financial details. Never automatically click on a link or attachment in an unexpected email or text.
For more information on how to stay secure online, visit www.cyberaware.gov.uk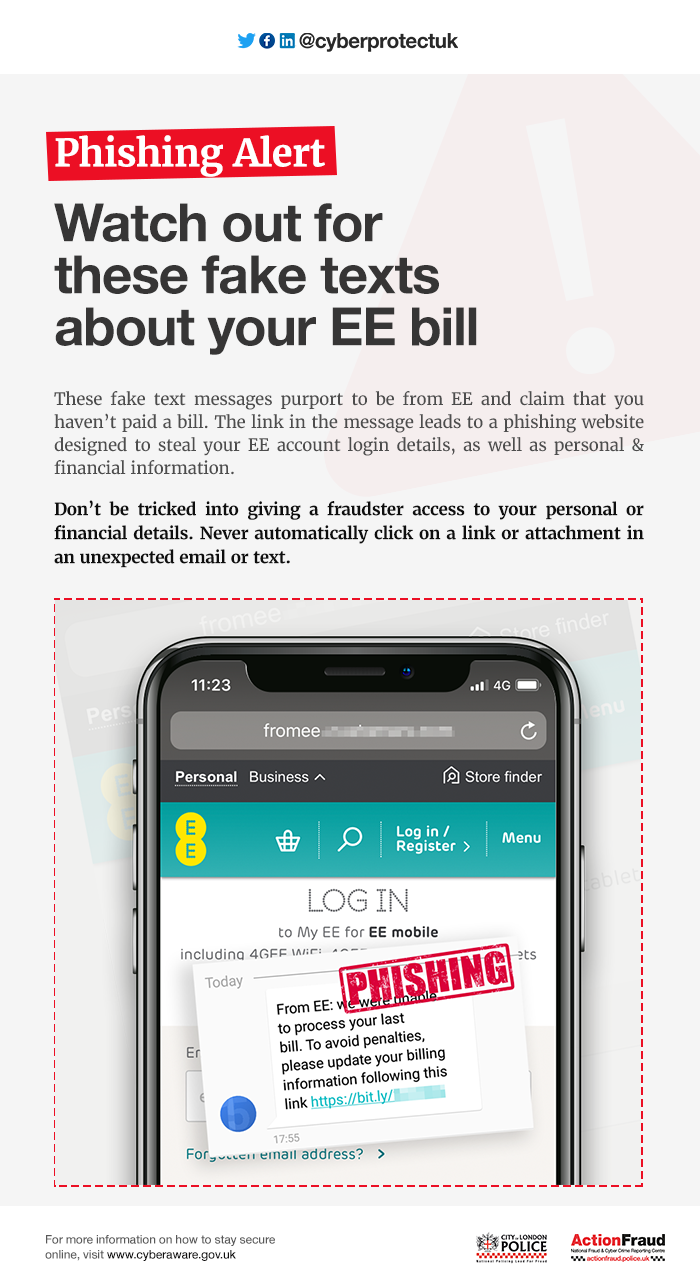 BEWARE! HM Revenue & Customs scam
Fraudsters are contacting the elderly and vulnerable, claiming to be from HMRC. The methods they are using include:
Spoofed calls: Fraudsters cold call victims using a spoofed number and convince them that they owe unpaid tax to HMRC.
Voicemails: Fraudsters leave victims automated voicemails saying that they owe HMRC unpaid taxes. When victims call back on the number provided, they are told that there is a warrant out in their name and if they don't pay, the police will arrest them
Text messages: They may also use text messages that ask victims to urgently call back on the number provided. When victims call back, they are told that there is a case being built against them for an outstanding debt and they must pay immediately.
One 87 year old victim recently told the BBC https://www.bbc.co.uk/news/uk-scotland-south-scotland-40160633# that he was phoned by fraudsters who claimed to be from HMRC stating there was an arrest warrant out in his name. They told him it would be cancelled if he bought £500 in iTunes gift cards at Tesco. The man bought the cards and gave them the serial numbers. But when they asked for a further £1,300 in vouchers, he became suspicious and hung up.
HMRC will never use texts to tell you about a tax rebate or penalty or ever ask for payment in this way.
Telephone numbers and text messages can easily be spoofed. You should never trust the number you see on your telephone display.
If you receive a suspicious cold call, end it immediately. More information can be found at:
https://www.actionfraud.police.uk/news/alert-fraudsters-claiming-to-be-from-hmrc-jun17

BEWARE! Don't Be Caught Out Like These Recent Victims
June 15th: 'Nottingham knocker' went to the home of an OAP (partially sighted) in the Bookham/Fetcham area and put his foot inside the open door as she found money to pay him. At another address a cold caller refused to leave when asked. Please look out for your neighbours and remind them of this:
NOT SURE? DON'T OPEN THE DOOR!
June 19th: Bags, cash and documents were stolen from a vehicle parked in Headley Road, Leatherhead.
PLEASE REMOVE ALL ITEMS FROM YOUR CAR WHEN YOU PARK UP – EVEN LOOSE CHANGE!

Bonfire Issues
Lighting a bonfire can be illegal if a person lights a fire, or directs/permits such fire, on land and the fire/smoke injures, interrupts or endangers users of a highway/carriageway. Otherwise, the smoke created by the fire can be a statutory nuisance, and the environmental health department of your local authority will be able to take action if the smoke is classed as a statutory nuisance. You need to record the details of who is lighting the fires, what time, what the effects were and your details. If the fires are very irregular then it is unlikely that the council will take any action. The council can stop the person from committing a statutory nuisance and failure to comply can lead to prosecution.
Courier Fraud
The National Fraud Intelligence Bureau has identified an increasing number of reports from the public concerning courier fraud. Fraudsters are contacting victims by telephone and purporting to be a police officer or bank official. To substantiate this claim, the caller might be able to confirm some easily obtainable basic details about the victim such as their full name and address. They may also offer a telephone number for the victim to call to check that they are genuine; this number is not genuine and simply redirects to the fraudster who pretends to be a different person.
After some trust has been established, the fraudster will then, for example, suggest:
Some money has been removed from a victim's bank account and staff at their local bank branch are responsible.
Suspects have already been arrested but the "police" need money for evidence.
A business such as a jewellers or currency exchange is operating fraudulently and they require assistance to help secure evidence.
Victims are then asked to cooperate in an investigation by attending their bank and withdrawing money, withdrawing foreign currency from an exchange or purchasing an expensive item to hand over to a courier for examination who will also be a fraudster. Again, to reassure the victim, a safe word might be communicated to the victim so the courier appears genuine.
At the time of handover, unsuspecting victims are promised the money they've handed over or spent will be reimbursed but in reality there is no further contact and the money is never seen again.

Protect Yourself
Your bank or the police will never:
Phone and ask you for your PIN or full banking password.
Ask you to withdraw money to hand over to them for safe-keeping, or send someone to your home to collect cash, PIN, cards or cheque books if you are a victim of fraud.
Don't assume an email or phone call is authentic
Just because someone knows your basic details (such as your name and address or even your mother's maiden name), it doesn't mean they are genuine. Be mindful of who you trust – criminals may try and trick you into their confidence by telling you that you've been a victim of fraud

Stay in control
If something feels wrong then it is usually right to question it. Have the confidence to refuse unusual requests for personal or financial information.
For more information about how to protect yourself online visit: www.cyberaware.gov.uk and www.takefive.stopfraud.org.uk
Cyber Crime And How To protect Yourself
Cyber criminals will hack into your devices the moment they spot an opportunity which could put you at risk of identity theft.
They will use weaknesses in software and apps to attack your devices and steal your identity. Software and app updates are designed to fix these weaknesses and installing them as soon as possible will keep your devices secure.
You'll often receive a prompt on your computer, smartphone or tablet to inform you that a software or app is ready to be updated. Don't ignore this message. The few minutes it takes to download and install the updates could save you a significant amount of time and trouble in the long run, reducing the risk of you falling victim to identity theft.
Software and app updates don't have to get in the way of what you're doing. You can choose to install them at night whilst asleep when your device is plugged in or set your mobile or tablet to automatically update them when you are connected to wi-fi. So why not have a look at your devices and install your software and app updates. Below are some useful steps to help you do this.
Strong and separate passwords - Cyber criminals can use your email to access many of your personal accounts and find out vital personal information such as your bank details, address or date of birth. Having a strong, separate password for your email means that if cyber criminals steal the password for one of your less important accounts, they can't use it to access your email account.
A good way to create a strong and memorable password is to use three random words. Numbers and symbols can still be used if needed, for example 3redhousemonkeys27!
Be creative and use words memorable to you, so that people can't guess your password. Your social media accounts can give away vital clues about yourself so don't use words such as your child's name or favourite sports team which are easy for people to guess.
Cyber criminals are very smart and know many of the simple substitutions we use such as 'Pa55word!" which utilises symbols to replace letters.
Never use the following personal details for your password:
•Current partner's name
•Child's name
•Other family members' name
•Pet's name
•Place of birth
•Favourite holiday
•Something related to your favourite sports team

For more information go to https://www.cyberaware.gov.uk/
Reporting crime or suspicious activity
Call 101 to report a crime, or dial 999 in an emergency or if a crime is in progress. Report as soon as possible with as much detail as you can provide and if possible, make a note of the following:
Is the suspect alone or in a group?
Are they trespassing?
Do they have equipment, dogs or firearms with them?
Are you aware of where suspects have been or where they are heading?
What do they look like?
Have they any vehicles? What are the number plates and vehicle models?
Can you safely get a photograph?
Home Security
Who's at your door when you're not there? With Ring, you're always home. The system is very flexible. It can be set to activate as soon as a person comes onto a property OR when they push the doorbell. It sends an alert and a live feed to a PC or mobile and it's even possible to speak to the person who is there.
https://en-uk.ring.com/?utm_source=facebook&utm_medium=cpc&utm_campaign=ACQ-Interests&utm_term=Community
Check products are approved by Secured By Design, the official UK Police flagship initiative combining the principles of 'designing out crime' with physical security: http://www.securedbydesign.com/.

TSB Attacks
There has been a sharp rise in fraudsters sending out fake text messages (smishing) and phishing emails claiming to be from TSB. The increase in the number of reports corresponds with the timing of TSB's computer system update, which resulted in 1.9 million users being locked out of their accounts. Opportunistic fraudsters are using TSB's system issue to target people with this type of fraud.
In several cases, people have lost vast sums of money, with one victim losing £3,890 after initially receiving a text message claiming to be from TSB. Fraudsters used specialist software which changed the sender ID on the message so that it looked like it was from TSB. This added the spoofed text to an existing TSB message thread on the victim's phone.
The victim clicked on the link within the text message and entered their personal information. Armed with this information, the fraudsters then called the victim back and persuaded them to hand over their banking authentication code from their mobile phone. The fraudsters then moved all of the victim's savings to a current account and paid a suspicious company.
Protect Yourself:
Don't assume an email or text is authentic. Always question uninvited approaches in case it's a scam. Phone numbers and email addresses can be spoofed, so always contact the company directly via a known email or phone number (such as the one on the back of your bank card).
Clicking on links/files:
Don't be tricked into giving a fraudster access to your personal or financial details. Never automatically click on a link in an unexpected text or email. Remember, a genuine bank will never contact you out of the blue to ask for your full PIN or password.
If you have received a suspicious TSB email, please do not respond to it, report it at https://www.actionfraud.police.uk/report_phishing and also forward it to emailscams@tsb.co.uk.
Every Report Matters. If you have been a victim of fraud or cyber crime, report it online or by calling 0300 123 2040.