November 2018 Update
Courier Fraud is Still Happening in Mole Valley

Remember that organisations such as the Police, Banks or Trading Standards will never ask for your bank details or pin codes over the phone. Share it with the old and vulnerable that there are fraudsters at large who will try any trick to persuade you to part with your money.
https://surrey.police.uk/advice/protect-yourself-and-others/fraud/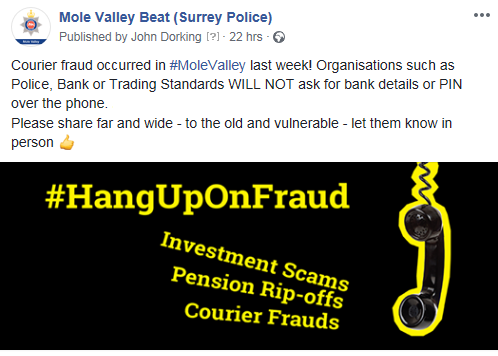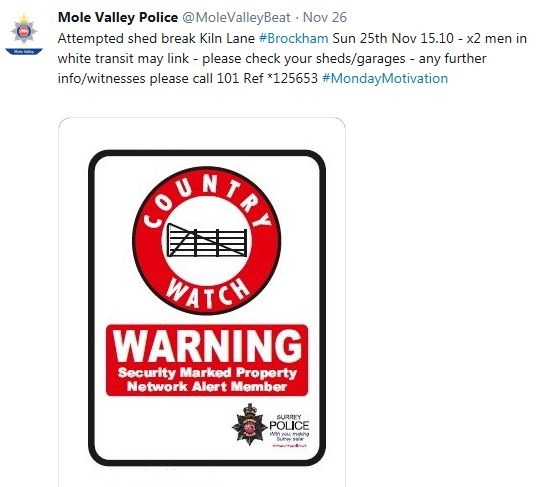 Secure Perimeter Fencing
Three bicycles were stolen from an address in Dorking recently. Access was gained by pulling down a garden fence. Gates and fences are the first signs of a secure home and act as a good deterrent to intruders. Make sure they are in good repair.
http://www.securedbydesign.com/crime-prevention-advice/secure-your-home/secure-your-perimeter/
Armed robbery at Headley Post Office
Police are appealing for witnesses following an armed robbery at a Post Office in Headley last Thursday evening (8th Nov). Officers were called at approximately 5.10pm after two people entered the store and threatened staff. They are described as wearing Halloween masks and carrying a firearm. No one suffered injuries.
Inspector Andy Adams, who is investigating the incident said: "We are aware that there was another robbery earlier the same day, and officers are currently investigating the circumstances of both incidents and at the moment are not ruling out whether they are linked. No arrests have been made at this stage.
"We understand that residents will be concerned by what has happened, and would like to encourage shop owners to take all the necessary steps they can to ensure their premises are secure, and ensure CCTV is fully effective."
For advice on protecting your premises visit: https://surrey.police.uk/advice/protecting-your-business/premises-security/
Anyone with information that may help identify the suspects, or if you were in the area and can provide us with information on sightings or dash cam footage, should contact Surrey Police on 101 (999 in an emergency) or surrey.police.uk/ReportIt, quoting reference PR/45180119654.
You can also give information, 100% anonymously, to the independent charity Crimestoppers on 0800 555 111; or through their anonymous online form: https://crimestoppers-uk.org/

Cold Callers Offering Gutter Clearing
Never agree to have work done by someone who turns up on your doorstep. Say no - e.g. gutter clearing. If your home is in need of repair, use reputable workmen recommended by family and friends.
https://surrey.police.uk/…/protect-yourself…/doorstep-crime/

Hare-Coursing
Hare-coursing is the pursuit of hares with dogs, often for the purposes of betting. It takes place on areas of flat, open land where the dogs can easily and visibly pursue the hare. It is typically carried out by large groups of people who travel long distances.

It is illegal under the Hunting Act but it also has other impacts. For example, fences and gates can be damaged by vehicles forcibly trying to gain access to land. Once in a field, it is common practise to film the chase from a moving vehicle, which can inflict significant damage to the field and any crops within it.
If you have any information to share, please contact Crimestoppers charity 100% anonymously on 0800 783 0137
or the non-traceable anonymous online form.
https://crimestoppers-uk.org/campaigns-media/campaigns/stamp-out-rural-crime?fbclid=IwAR3u0QbZx0Ql-y8DfXq-vpfOsfiQC3gVBS1DToD9cG1AKByrmjmfB8RBAlI
Criminal Damage to Farmland