Home
Hopton Cangeford and Stoke St Milborough Parish Council
The P.C. Was formed in 1953. Hopton Cangeford had previously been part of Stanton Lacy Parish. The Village Hall, where we hold our meetings ,was built in the late 1980s, to replace an old army hut that had been used as the village hall since1922.
The Parish is made up of five small settlements scattered over approx 11 square miles mainly agriculture, including an AONB ( Area of Outstanding Natural Beauty. ) These are Stoke St Milborough, Hopton Cangeford, Cleedownton, Blackford and Cleestanton.
There are just over 300 parishioners on the Electoral Roll.
Next Meeting
Members of the public are invited to attend:
the meetings Stoke St Milborough and Hopton Cangeford Parish Council to be held at:
Stoke St Milborough Village Hall
Third Wednesdays of the month at 7:30pm
*Not every month but will include September, November, January and May*
when prior to the meeting members of the public are invited to raise matters of interest with their Parish Councillors
Cllrs: G. Price (Chairman), C. Dahn, E. James, B. Norgrove, I. Powell, L. Fanouraki, T.Baylis, M. Vigar, T. Whiteman
Wendy Richards; Clerk/RFO stokestmilboroughpc@outlook.com 07813 271 274
Please see agenda in Agenda tab
* * * EMAIL ALERTS * * *
Notices for the next Parish Council meeting will now be posted on the News page.
This will generate an EMAIL ALERT if you are signed up to receive them.
Signing up is easy, just use the blue link button in the panel on the right.
(Please note that you will not receive the alerts for jobs, events or offers as we don't have these pages).
* * * EMAIL ALERTS * * *
Meetings are held at the Village Hall, Stoke St Milborough. We have approximately ten meetings a year, to deal with Planning Applications and any other business that needs to be discussed. Members of the Public can speak to the meeting for 15 minutes before the start of any meeting. Please contact the clerk before the meeting for more information.
WENDY RICHARDS PARISH CLERK: stokestmilboroughpc@outlook.com
phone 07813 271 274
post: Peckledy Farm. Heath. Bouldon. Craven Arms. SY7 9DS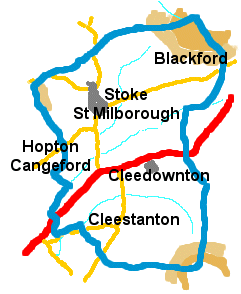 GDPR Privacy Notice
Hopton Cangeford and Stoke St Milborough Parish Council collect your personal data to provide you with the services required by a Parish Council. This would include data in Minutes, Planning Applications, Voting Registers, and contact with the Clerk. Your information will only be kept as long as necessary and is only processed by the Parish Councillors and Clerk; who is also Data Controller; Wendy Richards. Peckledy Farm. Heath. SY7 9DS. 07813 271 274. stokestmilboroughpc@outlook.com
Your data will not be shared with any third parties. To find out more about our privacy arrangements please contact the Clerk.
We must comply with 8 main principles:
1.To use your data fairly and lawfully. 2. Use it for it's stated purpose. 3. Used in a way that is adequate, relevant and not excessive. 4. Information is accurate. 5. Not kept longer than is necessary. 6. In accordance with data protection rights of a data subject. 7. Technical/organisational controls to protect data. 8. Not transfer outside the European Economic Area
You have a right to complain of Privacy Issues to ICO.