The War Memorial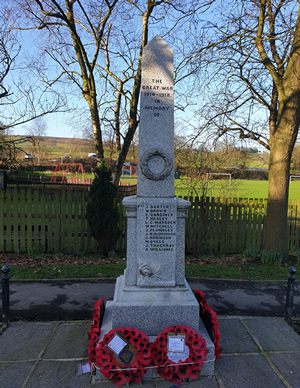 The village has a war memorial which resides alongside the main road near the cross roads at the centre of the village. It commemorates the fallen of the Great War 1914-1918.
Each year on Remembrance Sunday villagers and groups from the area meet to remember the war dead and place their poppy wreaths around the base. Free tea, coffee and biscuits, provided by Salterforth Parish Council, are available afterwards in the village hall for those that wish to partake.
Names on the memorial can be found below for those that would like the extra information! If you click on the picture you can enlarge it.
Remembrance Sunday 2020 - IMPORTANT NOTICE
This year due to COVID-19 the Parish Council have decided in line with Pendle Council and other organisations that there will be NO formal organised service at the war memorial in Salterforth. This means there will be NO prayers, NO hymns, NO verses, NO parades - NOTHING.
Residents who wish to mark the day are encouraged to do so in their own homes with a 2 minute silence at 11.00 am. There is also an option to download and print a poppy to put in your window if you wish on the British Legion website.
If any residents feel that they really have a need to visit the war memorial for any reason you may do so, but please ensure that you remember to:
Social distance
Wear a mask if appropriate to do so
Remember to use hand sanitiser as necessary
Rule of 6! ie no more than 6 gathered socially distanced at a time
Anyone who wants to lay a wreath or place a poppy cross may do so, but please remember to abide by the above guidelines. The Mayor, Salterforth Parish Council and Salterforth School will be laying wreaths at various times during the morning and will all remember to social distance. There will be NO official wreath laying ceremony. The British Legion may be in attendance for a short while and will maintain social distancing.
Out of respect for those who lost their lives the Parish Council has arranged for the Last Post and one other tune to be played by Jackie who played the Last Post on VE day. This will be at 11.00 am.
The Parish Council thank you for your understanding at this difficult time with COVID-19 and trust that the above is not too disappointing in view of the current lockdown. Hopefully we can look forward to a full Remembrance Sunday service in 2021.