Cllr Andy Roberts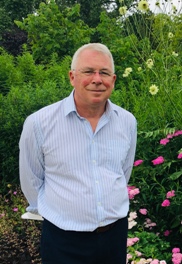 I have lived in the centre of Bourton since 1989, with my wife Sue; our son James went to the local primary school.
For the past 45 years, my career has been in aviation. Initially as an RAF apprentice engineer and then as a pilot flying Hercules transport aircraft from RAF Lyneham. After leaving the RAF in 1995, I became a commercial pilot for an airline at Birmingham and then from 2004, a corporate jet pilot operating from Oxford and Luton. I am now semi-retired.
I am a past Chairman of North Cotswold Round Table and served as a member of the Parish Council between 2000 and 2004. Having served before, I have a good understanding of the role of a Councillor and some of the difficulties involved and the need for consensus in conducting business and implementing change when required. I was elected as Vice Chairman of the Council in May 2022. I am currently sitting on the Highways and Village Environment Committees as well as the IT sub-committee.
My hobbies and interests include: walking our local footpaths, cycling, local history (I am a member of Bourton Local History Society), DIY, collecting contemporary art and canal-boating.
Please click here to contact Cllr Roberts by email.
Cllr Roberts's Register of Interests can be viewed here.