Platinum Jubilee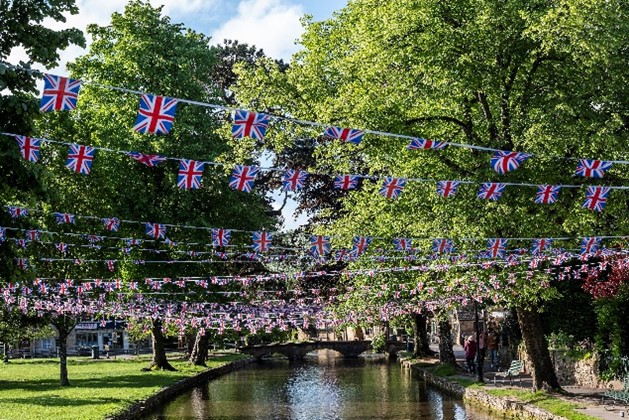 Bourton on the Water Platinum Jubilee – Reflections
Congratulations Bourton-on-the-Water! You really made the most of the four-day extravaganza that was organised to celebrate the Platinum Jubilee! It was incredible to see so many local residents out and about, enjoying themselves with friends and families.
We've received many positive messages from residents and I select a few examples to share:
"Haven't known the village feel so good. It felt like a place where people actually live. It felt like the trippers weren't the main act for once."
"We would like to thank you and everyone else involved for organising such a wonderful children's performance for the Jubilee event in the village yesterday! We absolutely loved it and were very proud of all our children, they were just brilliant."
"I would like to send a huge thank you to everyone who helped them to make the Jubilee weekend so thoroughly enjoyable. I appreciate the amount of work and effort required to put on that number and variety of events. It felt very much a special time for the village. A brilliant achievement."
"I should like to express my thanks to the Committee and all helpers for an utterly amazing programme last weekend. The village looked stunning, the organisation was superb and all events were super. Sincere thanks for all the hard work!"
The organising working group responsible for planning the four days are, almost exclusively, extremely driven by the importance of building and strengthening community ties. Based on the amount of really positive and appreciative feedback we have received, we succeeded in our objective of bringing as many different parts of our community together because we laid on such a diverse and extensive programme of activities.
It was no mean feat and I thank the tireless efforts of our organising team:
In alphabetical order: Jenny Coaker, Steve Cotton, Jim Cowen, Carol Groom, Bob Hadley, Judy Harden, Jill & Allan Hymers, Leanne Launchbury, Andrew Lund-Yates, Helen Macklin, Diana Ray, Barbara Rogers, Tori Teague, Bill Wragge. And I especially want to acknowledge the supreme efforts of Sue Cretney and Lynda Hicks, my right-hand women.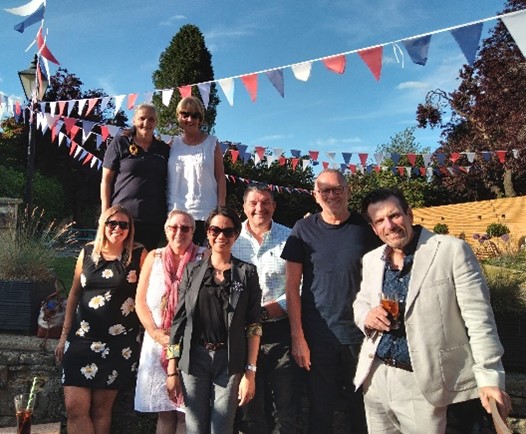 I also thank all the businesses that supported us together with the volunteers, sponsors – including Gloucestershire County Council and Bourton-on-the-Water Parish Council – and community groups that made it possible.
People have been asking me what were my highlights. It started with putting up the bunting on the prior Saturday at 6:00am with a great bunch of guys from Hacklings and members of our working group. Dressing the village early in the morning felt really magical! Thanks to The Old New Inn and Bourtanical for providing much needed refreshments……
Then the Beacon lighting: When I stood on the bench to speak and saw the extent of the crowd, I was energised by the sense of anticipation on the faces of locals for the weekend ahead. Shame we didn't think to organise a PA system! We just didn't expect such a strong crowd.
Friday brought Picnic in the Park, and despite the deluge nearly 800 or so of the 1,000+ ticket holders turned up! Being on entry gate duty was a miserably wet and cold experience but the fact that so many of you stuck it out, having come appropriately prepared, was a real testament to the character of our village. The dancing in the last dry 45 minutes was awesome!
Saturday saw the Fun Run, Tennis on the Green and Football in the River. As well as over 500 people availing themselves of the Open Gardens programme which was a great success! And then Street parties in the late afternoon and evening. If yours was as much fun as the one we held in Park Farm, you'll have had a great time making new connections and strengthening existing ties! So much laughter, singing and dancing!
And finally, Sunday Fun Day. Too much to mention! The standout event has to be the flash mob organised and performed by the Primary School. Utterly brilliant and inspiring! Well done all of you who performed and thank you to Maria and Tori for making it happen!
Almost without exception, businesses and residents came together for an overwhelmingly joyous and good-natured four days.
So, thank you Bourton for sharing and participating in a unique historic moment! Watch this space for how we follow this event up!
Jon Wareing, Chair of the Organising Working Group (Resident in Bourton for 29 years)
Particular thanks/acknowledgements to the following who, amongst others, helped make the Jubilee happen:
Grants/financial donations:
GCC's Build Back Better Fund
Bourton on the Water Parish Council
Bourton on the Water Rural Cinema
Bourton Primary Academy
Bourton Rotary Club
Sponsorships:
Hacklings Transport: Sponsorship of the Jubilee beacon and for a magnificent village centre bunting display; also for loaning a trailer for the Concert and Fun Day events
Peter & Lesley Edwards: Open Gardens
Co-Op: Platinum Generation Tea Party refreshments and Children's Party refreshments
General:
Children's parties: Immense thanks to Tori, Julia, Tanya, Hayley, Liz, Becs, Jackie, Laura, Deirdre & Ciara for helping before, during and after the parties; Joanne for a wonderful balloon arch and decorations; Frances, Jo, Tim and Bill for helping set and clear up; The Primary School for loaning its Hall; Mollie Wise for standing in magnificently for The Queen (and for fielding a number of very tricky questions from the children!).
Tea Party: Co-Op, WI, Kelly, Frances and Ian for donating food; Forget Me Nots for donating floral table decorations; U3A for providing the entertainment; Cadets for decorating the RBL Hall; Brownies for waiting on tables; Carol who sponsored the raffle; Andy and Carol for doing all the washing up.
Beacon Lighting: Loxie and Aled from the Cotswold School for lighting the beacon; Ian Tolfts and Stephanie Hemming for the National Anthem ceremony.
Open Gardens: All those local residents who opened their gardens to visitors; Helen and Martin Macklin, Judy and Carol for manning the Info Kiosk and selling tickets on Thursday and Friday.
Picnic in the Park: The Cotswold School, for providing the venue and Tim and Mandy for liaising with our team over the weeks; Gareth for helping to get the trailer in and out of the field!; Fosseway Hire for helping sponsor the generator; Maryam and Sue for their help on the doors; residents for turning up in their hundreds despite the rain ….
Saturday events: Bourton Roadrunners for organising and supervising the Family Fun Run; Bourton Litter Pickers for doing a litter pick of the field early Saturday morning; Bourton Tennis Club for supervising Tennis on the Green; Bourton Rovers for providing another wonderful Football in the River.
Sunday Fun Day: The Victoria Hall Trust for loaning the Victoria Hall for free all weekend, Tony for his support and Steve for helping on the day; The Queen for making more time in her busy schedule to launch the Flotilla, John Hackling for chauffeuring her and Martin for his MC role; Joan Minchin for telling us all about the 1977 Jubilee; Kelly, Emma & Tim for supervising family games on the Green; Community Groups who provided information stalls; Bourton Equestrian Centre for providing and supervising animals for the Pets Corner; Sue Roberts for preparing and accompanying the very popular History Walks; all local knitters who knitted nursery rhyme characters for the shop window competition as well as the shops who displayed them; resident volunteers who helped man the Info Kiosk throughout the day; the Primary School teachers and children involved with the dance display, one of the weekend's highlights.
Food Court caterers who helped keep everyone fed and watered.
Road closure volunteers: Caroline, Ernie, Richard, Liz, Philip, Frances, Lynne, Will & Kirsty, Kate, Emma, Karen, Maryam, Simon, Sharon, Jo, Ian.
Bourton Browser for donating space for regular updates and for putting up with endless last minute submissions and changes with such good grace and humour.
Maureen Ratcliffe and her team and St Lawrence's Church for the floral display.
Photography: Sandra Thurgood and John Foster who between them attended every single event.
Bourton Litter Picking Group and Ubico who helped keep the village centre immaculate throughout the weekend.
Cotswold First Aid who donated their time free of charge for the tea party and supported other events throughout the weekend to ensure everyone was kept safe.
The Dial House and Bourtanical for providing refreshments to the bunting display team.
Parish Council: Sharon, Jo, Ernie and Chris at the Council offices for providing support and help in so many ways.
VIC: Concert and Open Gardens ticket sales, managing competition and flotilla entries, registration of tea party attendees, fielding queries and answering endless questions as well as providing general support to the team – a monumental workload.
Donations of prizes for games, competitions and raffles:
Batsford Arboretum
Birdland
Cotswold Ice Creams
Cotswold Clubhouse
Cotswold Motor Museum
Cotswold Wildlife Park
Dial House Hotel
Duke of Wellington
Far Peak Climbing
Gift Times
Little Nook
Londis
Old New Inn
Quirky
Rural Cinema
Sweet Treats
Photos will be displayed as soon as Sandra, John and the team have had chance to sift through the hundreds and hundreds of images….also, a film of the event once this has been put together by our videographer.