Alton Papers
Alton Papers, no. 1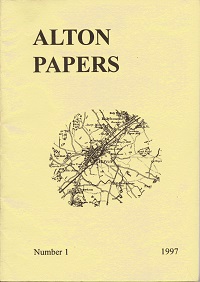 Publication Date: 1997
Cost: Out of print (available to view at Curtis Museum)
Articles:
A Bohemian Shopping List in 16th Century Alton
Author: Caroline Bethune
A study of the will and inventory of Richard Saunders of Alton. Richard made his will in November 1566 and the inventory was taken a few days later. The latter gives a good idea of how his house was furnished as well as showing that Richard had been earning a living through selling spices and dried fruits as well as having a linen loom with all its equipment.

Spicers and the Alton Papermill
Author: Phil Armitage
John Edward Spicer came to Alton's papermill in 1796 but moved to London during the depression following the end of the Napoleonic wars. He left his son, also called John Edward Spicer, behind at Alton. The article follows the fortunes of the mill until 1909, when papermaking ceased, then its subsequent history as the home of the Alton Battery Company and its destruction after a fire in the 1980s.

Diary of a Young Man
Author: Jane Hurst
William Terrell Gunner of Will Hall Farm in Alton began his diary in March 1845 when he was 19 years old. This article shows him during the first year as he describes the various happenings in the area including meetings about the proposed railway, hop picking, Weyhill Fair, riding with the HH [Hampshire Hunt], Bonfire Night and visits to friends.

Ockham School, Kingsley
Author: Helen Penn
Ockham School was one of the first co-educational boarding schools in the country and was established in Kingsley in 1875 or 1876. The owners were the Misses Frances and Alice Lushington and the premises were built by Messrs Dyer of Alton. The pupils included the children of servants as well as those of wealthier parents. The school closed not long after the death of Frances Lushington in 1900.