Alton Papers
5 - Hops and the Breweries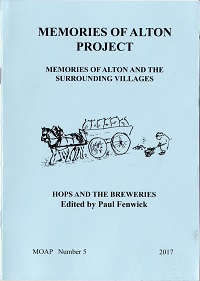 No.5 - Hops and the Breweries
Published: 2017
Cost: £3.00 (+p&p if ordering by post)
Where to buy: Curtis Museum or by post - see How to Order page.
Paul Fenwick has put together a fifth book of memories of local people - this time it is about 'Hops and the Breweries'.
Sadly the last local bines were pulled in 2016 on Hartley Park Farm and so it is even more important to record the early lives of those who went picking. May Gates remembered the hop gardens in Holybourne while Elsie Walters went to Wilsom Farm. Children would go along with their mothers and be expected to help as the money would go towards their coats and boots for the winter. Sometimes there would be disagreements and Gwen Knight recalled fights amongst the gypsies. Once the hops had been picked, they were taken to be dried and Elsie's father, Leonard Taylor, won the championship for hop-drying for several years running.
Many of the men of Alton worked in the Courage or Watneys breweries. David Rampton drove the drays around the local pubs while Bill Wyeth was in the Cellars - stopping mid-morning for his free ration of two pints of beer. Like hop growing, brewing has ceased and, as Paul says, 'Life in Alton may never be the same again.'