Alton Papers
3 - Shops and Shopkeepers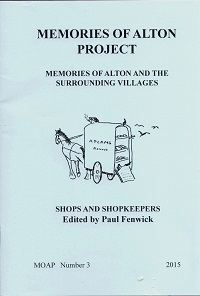 No.3 - Shops and Shopkeepers
Published: 2015
Cost: £3.00 (+p&p if ordering by post)
Where to buy: Curtis Museum or by post - see How to Order page.
Sixty years ago shopping was completely different from how it is now. There were no supermarkets and buying 'on line', using a computer, was in the realms of science fiction.
A multitude of small, specialist shops services the people of Alton. Most villages had two or three shops and there were a number of travelling shops providing staples such as bread and meat, which served the country areas. In Alton, the milkman and the baker made their daily rounds.