Alton Papers
Alton Papers, no. 14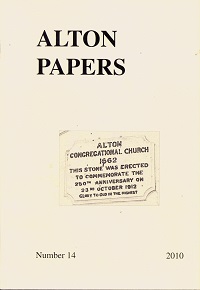 Publication Date: 2010
Cost: Out of print (available to view at Curtis Museum)
Articles:
Emigration, Alton to New Zealand, 1841-1844
Author: John Batten
Twenty nine families left the Alton area for New Zealand in 1841 and helped start the settlement of Nelson. The surnames were: Hebberd, Holland, Kate, Matthew, Neal, Roil, Windibank, King, Norgate, Winter, Cook, Garnett, Gibbs, Marsh, Newman, Lunn, Eyles, Holdaway, Lee, Randall, Scutter, Wells, Cresswell, Lawson, North, White and Hughes. The people left Alton, Bentworth, Chawton, Farringdon, Froyle, Lasham, Medstead, Shalden and Wield - probably never to return.
One Hundred Years of Living at The Butts
Author: Christine Weeks
Christine's Hale family were wheelwrights who bought a plot of land at The Butts in 1875. The story follows the building of their two houses here and their connections with the Grovers, Pikes and Carpenters.
The End of the Butts Tollhouse
Author: Jane Hurst
The Bagshot to Winchester turnpike ceased on 1 January 1872 and this this led to the sale of the tollhouse at The Butts - well its building materials anyway. Find out what really happened.
Promoting "Spiritual Health": An Assessment of Alton Congregational Church during the Edwardian Era, 1901-1914
Author: Roger Ottewill
This article follows the progress of the church and looks at those who were important in its day-to-day running - Samuel Charles Hunt, Robert Rumney Day, Walter Merrett and his father William. Later, Charles Archer, James B Longman and William Boggust feature alongside Revs Humphrey Davis and Harry Lewis.
The Death of King Edward VII
Author: Jane Hurst
On 6 May 1910, King Edward VII died. The funeral was held two weeks later and Alton held its own tribute with many local organisations taking part.