Alton Papers
1 - Hard Lives 50 - 80 Years Ago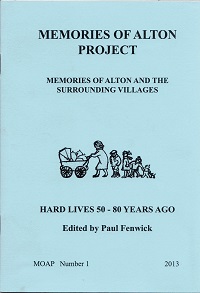 No.1 - Hard Lives 50 - 80 Years Ago
Published: 2013
Cost: £3.00 (+p&p if ordering by post)
Where to buy: Curtis Museum or by post - see How to Order page.
We all think that times are difficult at present and perhaps we have to go without some luxuries. But within living memory conditions were very different. We struggle now to comprehend how everyone lived then.
The extracts in this book are from the memories of people who grew up in Alton and the surrounding villages during the 1930's, 40's and 50's. They describe their homes and the services to them, and also how they travelled from place to place before the car became universal.