Alton Papers
Alton Papers, no. 5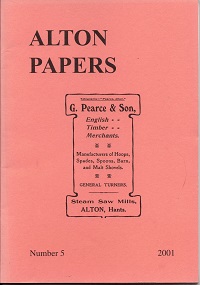 Publication Date: 2001
Cost: Out of print (available to view at Curtis Museum)
Articles:
Alton - the Place Name
Author: Martin Morris
There have been several interpretations of the meaning of the name of the town over the years. Various historical versions of the word are listed here and the best interpretation investigated.

George Brooks Bennett - Schooldays in Alton, 1821-1830
Author: Colin Fox
George Brooks Bennett arrived in Alton in 1821 from his home on St Helena. He had come to be educated at Mr Saulez's Academy which he attended for nine years. Excerpts are given from a long letter he wrote to his daughter in later life telling her about his experiences, companions, local events and outings. The school was first at 93 High Street and then, across the road, at 106-112 High Street. Mr Saulez later became headmaster at Eggar's Grammar School and took his private pupils with him when he moved there.

Alton Justice Clerkship Fee Book, 1834-1841
Author: D W Aubrey Stevens
This book contains references to complaints connected with licensing laws, larceny and assault as well as problems with the maintenance of the highways, the Poor Law and refusal to work. The Justices heard of malicious damage, offences against the game laws and disturbances during Methodist services and many actual cases are described.

Pearce's Sawmill, Butts Road
Author: Norman Pointing
Pearce's Sawmill was originally financed by Miss Isabella Crowley with the idea of providing work for members of the newly formed Alton Corps of the Salvation Army. Sadly the project was not a financial success and the premises were taken over by George Pearce from Buckinghamshire. This article gives an account of the history of the business and a description of the buildings which grew up on the site.
* £1 P&P for the UK only. For postage cost for other countries please contact sales@altonpapers.org.uk