Alton Papers
Jane Austen and Alton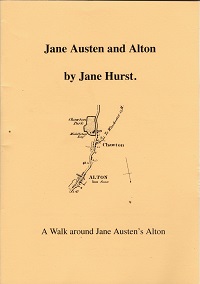 Jane Austen and Alton
Author: Jane Hurst
Publication date: 2011
ISBN: 978 0 9557038 0 5
Cost: £2.50 (+p&p if ordering by post)
Where to buy: Curtis Museum or by post - see How to Order page.
Jane Austen moved into the village of Chawton in July 1809. Alton was the local market town and lay within walking distance of Chawton. It was described, less than 20 years before Jane and her family arrived in the area, as:-
'a pleasant healthy town, on the great Western road from London through Farnham, to Southampton and the Isle of Wight. It consists of three streets, the principal of which is wide, and modern built. It has a small, but neat church; and the river Wye [sic - it is actually the River Wey] runs through the town.'
During the years that Jane lived in Chawton, she came to Alton in order to shop and to board the coaches that took her on her various visits to friends and relations. Several members of the Austen family also lived in Alton at different times. Her brother Frank and his family lived in Lenton Street and the High Street, while her niece, Anna, lived at Wyards after her marriage to Benjamin Lefroy. Coming from Chawton, Jane would have walked along the main road that enters the parish of Alton at the southern corner of The Butts.
This book is written in the form of a walk around Jane Austen's Alton but it can also be used as source of information about her time in the area. The illustrations are taken from photographs and old postcards and show that many of the buildings that she knew are still to be seen today.