Alton Papers
Alton Papers, no. 4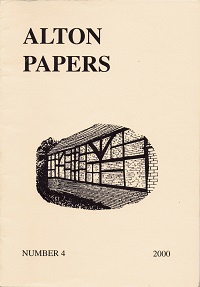 Publication Date: 2000
Cost: Out of print (available to view at Curtis Museum)
Articles:
The Former George Inn, Alton
Author: Jane Hurst and Edward Roberts
The George was one of Alton's four late-medieval inns and part of a lodging range still survives. Tree-ring dated to 1501, this is an important example of such a building. As well as a description of the architecture, here is the history of the first 100 years of the inn including its owners and occupiers.

The Golden Pot
Author: Georgia Smith
Lying near the boundary between Alton and Shalden, the Golden Pot was first mentioned by name in documents dating from 1746. Owned by the Eames family for many years, the business was eventually acquired by the Alton brewers Dowden and Lee. It was bought by Henry Hall in 1841 and sold to Courages in 1903.

A French Connection
Author: Tony Cross
This article looks at the life of French prisoners of war in the early 1800s and a description in William Curtis' book on the history of Alton about an escape of some of them from the Crown inn. The author stresses the importance of not accepting historical information from a single source, especially a secondary one, without checking it.

Alton in 1912, part 2
Author: Kenneth White
This continues the story of 1912 with news of political fêtes, a royal visit to the Lord Mayor Treloar Cripples' Hospital and College, a new minister at All Saints' Church and the opening of a Liberal Club in the town as well as many other events.

The Crispes of Medstead
Author: Reg Kercher
Walter Crispe came from Norfolk and worked for Musselwhite's of Basingstoke before settling in Medstead where he went into partnership with Mr Fido. In the 1930s, they employed about 50 men and worked on many local 'big houses' as well as building dwellings in Medstead, Ropley, Four Marks and Bentworth.