Alton Papers
Alton Papers, no. 3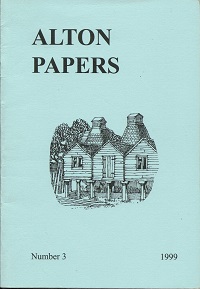 Publication Date: 1999
Cost: Out of print (available to view at Curtis Museum)
Articles:
Hop-picking - its impact on Alton and District
Author: Bill and Christine Weeks
In the past, Alton was ringed by hop gardens. This article describes what it was like to go hop-picking for locals and those who came into the area to help, including gypsies, travellers and Londoners. Many personal memories are given of the hard work for adults and children, the Hop-pickers Mission and the fights - all now ceased.

Froyle Park Stile
Author: David Hasted
This is a description of a feature of the village of Froyle that has almost dissappeared. Made of stone and unusual in form, it was complete in the early 1900s. Since then, the upper portion has disappeared and the part that is left needs conservation.

Alton in 1912, part 1
Author: Kenneth White
This gives a picture of Alton as it was in the first half of 1912. In the previous June, there had been the Coronation of King George V and a census of the 5,555 Altonians. The neighbouring parishes contained over 18,000 villagers. One could buy a motor car but most people still used horse-drawn vehicles or walked. The article highlights the events such as the opening of the Catholic Church and the memorial services for those lost on the Titanic as well as the many businesses that flourished in the town.

Whatever happened to Alton's Spitfire?
Author: Tony Cross
Like many other places, Alton encouraged its inhabitants to save during the Second World War. In 1940, a Spitfire Fund was set up in the Alton Urban and Rural Districts and the target figure reached. Later, it was reported that the Alton and District Spitfire had taken part in many sweeps over the Channel and accompanied bombing raids. It was reported missing after a mission over Northern France.

Lest We Forget - a postscript
Author: Tony Cross
More information about Alton's War Memorial.