Alton Papers
Alton Papers, no. 18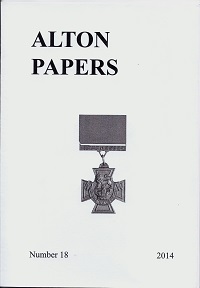 Publication Date: 2014
Cost: £3.00 (+p&p if ordering by post)
Where to buy: Curtis Museum or by post - see How to Order page.
Articles:
Ernest George Horlock V.C.: an Alton Hero Remembered
Author: Digby Horlock
Ernest George (known as George) was born in Beech, Alton, in October 1885. The family, who worked for John Wood of Thedden Grange, soon moved to nearby Shalden and then Hartley Mauditt. George then enlisted in the Army, joining the Royal Field Artillery (RFA), and so was sent to Belgium and France as soon as war was declared in 1914.
The article tells of George's actions which earned him the Victoria Cross on 15th September 1915 and his visit home afterwards when he was congratulated everywhere he visited. In 1917, George married but soon had to board HMS Aragon to sail to North Africa. Tragically, the ship was torpedoed outside Alexandria but George was rescued by HMS Attack which itself was also torpedoed when George was killed.
On 15th September 2014, a paving stone was unveiled in honour of George and his 'conspicuous gallantry'.
Chawton's Part in the Boer War
Author: Violet Hunt
Violet had researched the thirteen men of Chawton who served in the Boer War. These include several members of the Knight extended family (Evelyn and Edward Bradford and Lionel and Henry Knight) as well as Albert Appleford, Charles Clinker, Henry Jackson, Henry Langrish, John Skates, Walter Triggs, William White and Ernest White.
Ernest was the only one who died - from the effects of wounds received whilst trying to save a comrade in 1901. He was buried at Bloemfontein and the parishioners of Chawton subscribed to a memorial in the form of a cross 18ft high which is in the new churchyard extension.
Hill House, 1 High Street, Alton
Author: Jane Hurst
Hill House was occupied by the Gates family in the late 1600s and early 1700s before coming into the hands of Quaker Daniel Ede. From him, it passed to the Packs and Bloses before being sold to James Rodney - brother of Admiral George Brydges Rodney.
In 1794, the property was bought by William Parker Terry, friend of Jane Austen, whose wife Rebecca was a niece of Gilbert White of Selborne. The house passed through several owners and occupiers including local builder John Andrews, Rev William Merriman, Quaker Deborah Hooper (daughter of William Curtis) and another builder Edward Dyer. After WWII, Altonians remember Mr Redman, the dentist, having his surgery here.
Alton's Breweries in 1974
Author: Steven Knight
Steven, who now lives abroad, has let us see some photographs of Lower Turk Street showing the Courage Brewery and the Crowley/Watney tower. Not one of the buildings now survives and the only part recognisable is the glimpse of Windmill Hill in the distance.