Alton Papers
Alton Papers, no. 8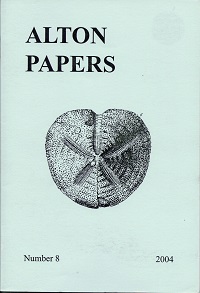 Publication Date: 2004
Cost: £3.00 (+p&p if ordering by post)
Where to buy: Curtis Museum or by post - see How to Order page.
Articles:
The Reverend Canon Edward James, Vicar of St Lawrence's 1831-54
Author: Edward J M Hepper
Canon Edward James came from a distinguished family - his father was headmaster of Rugby School and his brother was Bishop of Calcutta. After attending Eton and Oxford, Edward was appointed Canon of Llandaff by Bishop Sumner and he followed the Bishop to Hampshire when the latter became Bishop of Winchester. While in Alton, Edward's son, Arthur Coleridge James, was born. Published here are some sketches of the boy with his mother and sister as well as some of his own drawings, photos of the old Vicarage before its demolition and a study of the canon and his family.

The Act of Settlement and the Sad Story of Sarah Stacey of Binsted
Author: Major R G Reed
This article traces the story of Sarah Stacey from her birth in Binsted in 1764 until her death at the early age of 19. Sarah's family fell on hard times and needed help from the Overseers of the Poor. At 13, Sarah went to work for John Mills and, two years later, she travelled to London. Here things did not go well and she ended up being sent back to her village where her father died soon afterwards. Gradually sarah's health gave way and she too died. A not uncommon tale but one which is not usually known in such detail.

No.25 Lenten Street
Author: Jane Hurst
Also known as 'Brooklands' or 'Curtis House', this building bears the inscription 'N G 1702'. This refers to Nicholas Gates, a strong Quaker. After passing down the Gates family, the house was occupied by John Curtis, father of William Curtis, the botanist. John was a Quaker and a tanner and the next family, the Jefferis, followed the same trade. A later occupant was Harry Percival Burrell, Chairman and Director of Messrs and Crowley and Co. Ltd, the brewers.

Cretaceous Alton
Author: Michael C Parkin
Alton and the surrounding area are lucky to have many rights-of-way and to lie where interesting fossils can be found as well as marcasite nodules. Several walks are described together with the most likely items that might be found.

Local Connections with the Crimean War
Author: Tony Cross
There are several local connections with the Crimea War if one knows where to look. In Alton, some new dwellings were named Alma and Inkerman Cottages and topical entries were made in the diary of a local man. Also there were men from the area listed amongst the casulties - George Williams of Holybourne, Charles Ernest Knight of Chawton and Audley Lemprière of Newton Valence.