Alton Papers
Alton's Breweries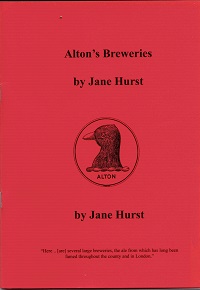 Alton's Breweries
Author: Jane Hurst
Publication date: 2012
ISBN: 978 0 9557038 5 0
Cost: £3.00 (+p&p if ordering by post)
Where to buy: Curtis Museum or by post - see How to Order page.
This book gives a history of brewing in Alton from the first surviving records until the modern period - although the latter era is not dealt with in any detail. Over time, brewing changed from a domestic and small time operation to two main breweries and then just one which is now closed.
One reason for putting the story into print is that the history of one particular brewery - the Baverstocks' - has been misunderstood by almost every writer since James Hinton Baverstock wrote about it in 1824. This business was acquired by the Crowley family and then became Watneys. The other main establishment belonged to the Hawkins dynasty until they sold to Henry Hall of Ely. On 1903, this went to Courage & Co.
A small brewery called Fielder's existed for a short time in the mid-1800s and the Harp/Bass/Coors/MolsonCoors one was built on a new site in the 1960s. Many of those involved with brewing in Alton were not only business men but they were also important to the development of the town.