Alton Papers
Alton's Photographers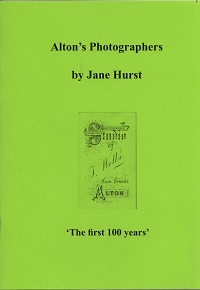 Alton's Photographers
Author: Jane Hurst
Publication date: 2016
ISBN: 978 0 9557038 8 1
Cost: £3.00 (+p&p if ordering by post)
Where to buy: Curtis Museum or by post - see How to Order page.
The first dated photograph was taken here in 1857 by the Crowley family with the first professional being in business in Alton by 1865. Those who have taken pictures during the first 100 years are listed together with examples of their work. To start with the most popular format was the carte de visite or the larger cabinet size. By the end of the Victorian period, post cards were becoming more common - many of which had pictures of the towns and countryside on them. This book follows the story of professional photography in the town until the 1950s.