Alton Papers
Jane Austen and Chawton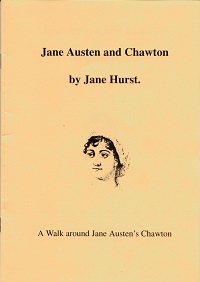 Jane Austen and Chawton
Author: Jane Hurst
Publication date: 2009
ISBN: 978 0 9557038 3 6
Cost: £2.50 (+p&p if ordering by post)
Where to buy: Curtis Museum or by post - see How to Order page.
When visiting Chawton, many people wonder who was in the village when Jane Austen came to live here in 1809. This volume starts at the Butts in Alton (the historical boundary with Chawton) and takes the reader along the Winchester Road and into the village centre describing those who Jane might have met on her walks around the area. In her letters, Jane mentioned Farmer Andrews of Chawton Park Farm and the Prowting family at the property bearing their name. Next door to her home was Clinker's forge and, round the corner, the home of her friend Miss Benn and John Philmore.
Towards Chawton church lies Park View Cottages where 'Dame Libscome' lived and the Rectory that was home to Rev John Papillon who Mrs Knight thought would be a suitable match for Jane. The route then returns passing the cottages of labourers who worked on the estate of Jane's brother, Edward Austen/Knight, until it reaches Denmead, the home of the Clements, and the start of the tour.