Alton Papers
Alton's Pubs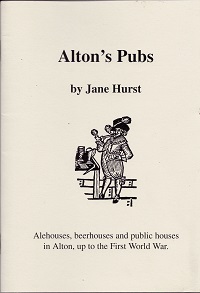 Alton's Pubs
Author: Jane Hurst
Publication date: 2005
ISBN: 978 0 9557038 7 4
Cost: £3.00 (+p&p if ordering by post)
Where to buy: Curtis Museum or by post - see How to Order page.
Alton has had many alehouses, beerhouses and beershops during its history. This book is an attempt to list all the known ones up to the First World War and give a little history of each. For some, this has proved difficult as, like the Blue Bell, they may only appear in the records once with no indication as to where they were. 47 premises are listed together with the various names by which they were known. Some names, such as the Kings Head, were used at different times for different premises and several businesses changed their names over time.
Each entry for a public house gives the dates for which there is evidence for it being open. The earliest named business found so far is the Black Boy on the site of 4 Market Place. This was functioning in 1622. The Bailiwicke, later called the Five Bells and then the Wheatsheaf, seems to have been a victualling house by 1656.
A study of the names of the various houses in interesting. Some were after well known figures, such as Bishop Blaise, the Duke of Cumberland, Admiral Vernon and Queen Victoria. Others had agricultural connections (the Wagon and Horses, Plough and Hop Poles) or were reflections of the occupation of the landlord (the Sawyers Arms, Bakers Arms and Butchers Arms). Several had names often used by inns (Red Lion, Star, Angel or Kings Head) and others were nautical (Ship and Anchor). Most of the beershops were usually just called after the name of the owner - Ann Bennett's Beershop and Vince's Beerhouse.
Although the list of victualling houses is quite extensive, most of them were not open at the same time. Many closed when the landlord died and five were closed as a result of the Licensing Act of 1904. Eight years later, only 17 licensed public houses remained in Alton.