Alton Papers
Alton Papers, no. 11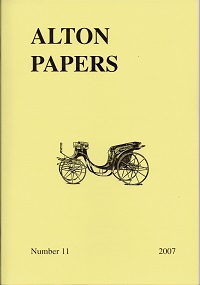 Publication Date: 2007
Cost: £3.00 (+p&p if ordering by post)
Where to buy: Curtis Museum or by post - see How to Order page.
Articles:
John Hale & Sons, Wheelwrights and Coachbuilders of Alton
Author: Christine Week
John Hale was born in Ropley in 1815, the eldest of 11 children. He became a wheelwright and, after his marriage and the birth of his first two children, he moved to Alton. There he set up in business and, eventually, acquired premises in Butts Road. John's sons, John, William, Charles and Thomas, followed their father and they became 'John & Charles Hale, Coach & Cart Makers & Wheelwrights' - a firm which continued until 1921. The Hale story also mentions other Alton families, such as those of Cox, Barham and Fenton, as well as giving an insight into the life of an apprentice in the 1890s.

Wykeham House School, Kings Road, Alton
Author: Jane Preston (née Middlemiss)
In the 1930s, Miss Primrose Wickham bought a house called Calewcroft, which had been built by Henry Chalcraft for his son. Here she set up her private boarding school. This article describes life at Wykeham House just after WWII when food-rationing was still in force. Despite this, the author has happy memories of her time here - walks in Ackender Woods, through the local hop fields, along the disused Basingstoke to Alton railway line and past Alton's breweries and Morland Hall. Illustrations show the now demolished buildings and the pupils and staff (Miss Primrose and Miss Dorothy Wickham, Miss Fullerton, Miss Westmacott, Miss Holker and Mrs Smith) in July 1947.

An Italianate Tomb at East Tisted, Hampshire
Author: Nicholas Riall
Richard Norton inherited the manor of East Tisted from his parents, John and Joan Norton, having married Elizabeth Rotherfield in 1495. Richard held several important posts - those of sheriff of Hampshire, commissioner of the peace and commissioner of array. Richard?s tomb, which is illustrated in this article, comprises a chest with panels holding a shield surrounded by Italienate detail. Dating from the later 1520s or early 1530s, it seems probable that the mason for this was Thomas Berty who appears to have arrived in Winchester in the mid 1510s. Here he probably worked on the major rebuilding of the cathedral presbytery for Bishop Fox and was employed to carry out repairs to the vault over the shrine of St Swithen. This was followed by work at Titchfield for Thomas Wriothesley and the building of forts along the Solent.

Alton's Eccentric Professor, A W Bickerton - 1842-1929
Author: Paul Fento
Alexander William Bickerton was born in 1842 in Alton where he gained a free place at Eggar's Grammar School. He later studied science at evening classes and, eventually, attended the Royal School of Mines in London. Alexander then returned to Hampshire to take charge of Science lecturing at the Hartley Institute in Southampton. In 1874, he accepted the Chair of Chemistry at Canterbury College in New Zealand and taught there until 1902. Soon after arriving abroad, Bickerton began to formulate his astronomical 'Theory of Partial Impact'. He also founded a commune and published articles on controversial sociological ideas. In 1910, Bickerton returned to London and became President of the London Astronomical Society and came to Four Marks to open an Observatory there.