Alton Papers
Alton's Assembly Rooms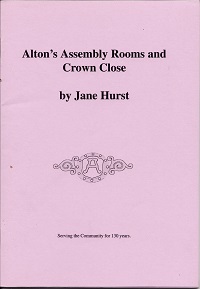 Alton's Assembly Rooms and Crown Close
Author: Jane Hurst
Publication date: 2010
ISBN: 978 0 9557038 4 3
Cost: £3.00 (+p&p if ordering by post)
Where to buy: Curtis Museum or by post - see How to Order page.
The Autumn of 1880 saw the opening of three public buildings on a plot of land on Crown Hill. These were the Assembly Rooms, Cottage Hospital and Mechanics' Institute and Museum. This book follows the history of the Assembly Rooms and the adjoining Square describing the royal visitor who never came and the foreign king who did. During WWI, the building was used as a Red Cross Hospital and an air-raid shelter was dug in the Square in WWII.
Many of the groups, clubs and societies who used the Rooms are listed showing what a wide range of things there were to do in the town in the past. The first 'animated pictures' to be seen in Alton were probably shown here and the premises hosted roller skating, a poultry show and a public meeting in honour of the Red Army.
In 1882, the 'light of the future' was seen in the Assembly Room Square with an electric lamp said to be of 6000 candle-power suspended from a lofty flag pole. Later, the area became the focus of many important events in the town - such as coronations and Remembrance Day services.
The Assembly Rooms and Square have served the town for well over a century and it is hoped they will continue to do so for many years to come.